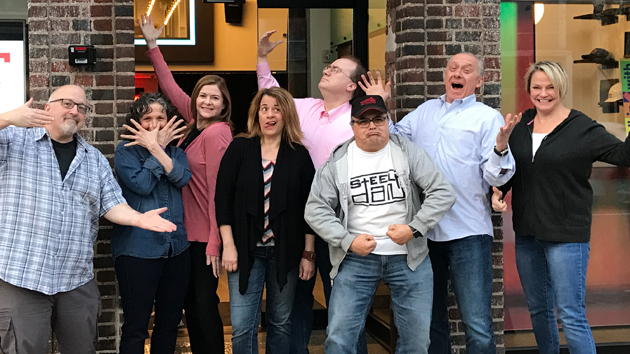 Adult Mini Camp
Who Says Camp Is Just For Kids?
Have fun! Learn new skills! Let your creativity soar!
All Classes are Sold Out.  Please add your name to the waitlist and we will contact you if space becomes available, or when registration opens in the fall!  Have a great summer and thank you for supporting Montclair Film's Education Programming!
Screenwriting I – Closed

Students will learn the fundamentals of screenwriting from format to techniques to story structure. Students will analyze the work of successfully produced screenplays to learn what it takes to write for film and television, as well as receive valuable feedback from their peers and their instructor as they create their own original short, feature, or television scripts! No previous screenwriting experience is required. (Class Size: 7 – 10)
Dates: 6 Tuesdays (7/17, 7/24, 7/31, 8/7, 8/14, 8/21)
Time: 7:00pm – 9:00pm
Cost: $200/Members $180
Instructor: Evan Dickerson

Podcast like a Pro! – Closed

From Radiolab to The Adventure Zone, podcasting has changed the face of our modern media landscape. This hands-on course will show you how to develop and produce your very own show in the Montclair Film Storytelling Studio! Learn mic technique, mixing, post-production, and what makes for an interesting podcast from our guest instructor, Frank Hablawi of Non-Productive.com. (Class size 7 – 12)
Dates:  7/23, 7/24, 7/25, 7/26
Time: 7:00pm – 9:30pm
Cost: $180/Members $162
Age: 14+
Instructor: Frank Hablawi

Editing with Premier Pro – Closed

This hands-on beginner workshop will cover the interface, controls, and features of the industry-standard software Adobe Premiere Pro. Students will learn how to combine video, still images, and music to tell their stories. (Class size: 7 – 10)
Dates: 8/1, 8/2
Time: 7:00pm – 9:30pm
Cost: $110/Members $100
Age: 14+
Instructor: John Carluccio

The Art of Storytelling – Closed

Everyone has a unique story to tell, but not everyone has the training or the confidence to feel comfortable telling it. Do you get nervous running a meeting at work? Do you wish you had more confidence speaking at events? Do you want to ensure your message is well received on the radio, a podcast, or at your next fundraiser? Then the Art of Storytelling is the perfect mini-camp for you!
In this course, we will review the basics of storytelling and performance to ensure you become your best self in front of a crowd. Novice and veteran storytellers alike are welcome to sign up. We will learn from each other and join a growing community of storytellers in a time when sharing your stories and messages clearly and correctly is so vital. Whether you want to work on confidence and poise in large groups or work on preparing your next professional storytelling performance with the Montclair Film Story Slams, this class will give you the tools you need to deliver high quality stories, performances, and content in whatever spaces you choose!
Dates: 3 Mondays (7/16, 7/23, 7/30)
Time: 7:00pm – 9:00pm
Cost: $100/ Members $90
Instructor: Duncan Miller

A Taste of Improv – Closed

Two class sessions to introduce you to the fun of improvisation through exercises, games, and scenes. If you're interested in improv – and you've seen it on TV or live – and want to have some fun letting those crazy ideas out of your head, then this mini-camp will give you a summer blast of creativity.
Dates: 8/8, 8/9
Time: 7:00pm – 9:30pm
Cost: $85/ Members $76.50
Instructor: Gary Rudoren

Mini camp workshops will be held at the
Investors Bank Media Center, 505 Bloomfield Avenue, Montclair.
For more information contact: Education@MontclairFilm.org