Favorite Movies of All Time
By Caitlin Colford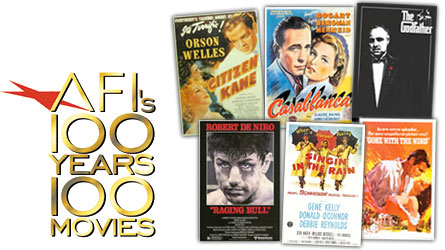 Perhaps the most controversial question of all time: What are the top five movies of the past 100 years?
Okay, maybe not THE most controversial question, but it certainly is a trending topic around the offices of the Montclair Film Festival for obvious reasons (we love movies!).
To try and reach a consensus, we've asked members of the board, as well as other volunteers and members of the MFF, to name their own personal favorite films of all time compared to the American Film Institute's venerable list of top films of the past 100 years, which included Citizen Kane, The Godfather, Casablanca, Raging Bull, and Singin' in the Rain as the top five of all time.
Bob Feinberg, Chairman of the Board, Co-Founder
Mr. Feinberg kept The Godfather intact within his top five list, not venturing far off in disagreement of AFI's selections, but placed The Godfather II a rank above as his favorite film of all time. "Possibly the only sequel that exceeded the first movie. The Godfather II is compelling and atmospheric, Al Pacino as Michael is masterful."
Raphaela Neihausen, Festival Director
Most of my favorite films are about dreamers and all are united by epic scores that are as vivid as the visuals.
Fitcarraldo (dir: Werner Herzog) One man's dream (Klaus Kinski) to bring the Opera to the Amazon.
Let's Get Lost (dir: Bruce Weber) Bittersweet and beautiful, a portrait of jazz trumpeter Chet Baker.
Cinema Paradiso (dir: Giuseppe Tornatore) Nostalgia, cinema, and first love.  Music by Ennio Morricone.  I'm a goner.
Apocalypse Now (dir: Francis Ford Coppola) An epic look at the underbelly of the Vietnam War.
And to round out the darkness, my last pick: Annie (dir: John Huston)! I know the script and songs inside-out.  The anthem of my childhood.
Lisa Ingersoll, Board Member
"Double Idemnity is my top pick because of the way it freezes a dark moment in time," Lisa shares. Aside from other great choices for her top list, including Billy Wilder's classic, Sunset Boulevard, Lisa brings up a valid point that other Montclair Film Festival employee's selections seem to agree with, "I am always disappointed that more comedies don't make it to these kinds of lists. I would've definitely included This is Spinal Tap, Animal House, and The Big Lebowski."
Claudine Liss, Volunteer Coordinator
Claudine declares Bridesmaids and Mean Girls as two of her top picks, further exhibiting that lists such as AFI's should think twice before neglecting well executed comedies. Claudine's all-time favorite? "Terms of Endearment made me want to become a filmmaker.  Words can't express how much I LOVE that movie."
Daniel Battsek, Board Member
Continuing with the theme of comedy classics, Daniel selected Dr. Strangelove as his all-time favorite film. "Dr. Strangelove is the perfect mix of a slapstick and political satire." Daniel agrees with AFI's top selections, but would swap out Gone With the Wind for one of his selections, which, other than Strangelove, include, Some Like it Hot, Lawrence of Arabia, Chinatown and Manhattan.
Matthew Frankel, Board Member
Comedy lovers continue to come forth! Matthew pronounces Step Brothers as one of his top five because, after an estimated 300 views, he still laughs every time. However, Matthew's number one favorite film is Network. "Network has amazing vision for where our country was headed."
Our excitement for cinema and the fast approaching Montclair Film Festival continues to grow! As exhibited by the eclectic selection of our favorite films of all time and top five lists, it is clear we all have our different tastes in film. Most will approve of a respecting nod to classics, as noted by AFI's top 100 films of the past 100 years, but apparently we can also agree that comedic films are just as important as the dramatic (perhaps the funny bone of our loyal supporter, Stephen Colbert, has rubbed off on us!).