Evocateur: Morton Downey Jr.
By Debra Marrazza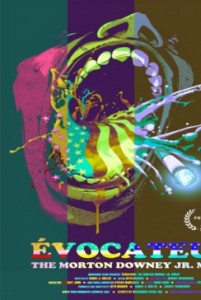 NBC Today Show co-host, Bryant Gumbel once asked; "Is this a passing fancy or is this in front of the wave?"
It is 25 years later and once you see, EVOCATEUR: THE MORTON DOWNEY JR. MOVIE from Ironbound Films on Saturday, May 5th at 7PM, you will walk away with the answer.
Born into a life of luxury, Downey was a singer and songwriter who left the music industry and moved to Washington and onto politics.  All this before becoming the pioneer of  the "trash TV" format and a 1980's  pop culture celebrity with a highly controversial talk show, The Morton Downey Jr. Show.
With fans known as the "Loudmouths", the show, taped in front of very rowdy New Jersey audiences in Secaucus had access to voice their views, defend them or face Downey.
After catching up with the directors, Seth Kramer, Daniel A. Miller and Jeremy Newberger for a recent interview, they shared their thoughts on their inspiration, the single biggest challenge they faced when making this film and what they want audiences to take away.
What was it about the topic that inspired you to make this film?
Coming of age in New Jersey and Long Island, watching, discussing and attending Downey's talk show was our Facebook. Jeremy even played The Morton Downey Jr. Show dress-up with high school friends.
What was your single biggest challenge in getting this film made?
The biggest challenge we faced in making this film was combing through more than 400 tapes of show footage, not necessarily to capture the finest moments, as if putting together a "best of" compilation but to sculpt a narrative and get inside Downey's mind and motivation.
What do you hope audiences will take away after seeing the film?  
We wanted to get to the bottom of why Downey was able to capitalize on the latent fury of the masses and how a new Downey bubbles to the surface every couple of decades.  We hope Evocateur empowers audiences to recognize the next populist entertainer who hijacks the public conversation.  And, of course, it is a chance to enjoy Downey's shtick one more time again.
Indeed this is a chance to enjoy his shtick one more time again, or, depending on when you came of age, it is your chance to be introduced to Downey's shtick.  Once you see the film then decide; just a passing fancy or in front of the wave?
7:00pm Sat. May 5, 2012 • Clairidge Cinema