By Merve Fejzula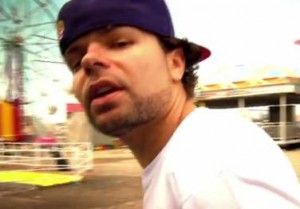 "When do any of us know in our own lives what will happen next…let alone, what might happen in someone else's life?" asks Beth Levison, the filmmaker behind the inspiring documentary, "Lemon."
This question grips the audience as they follow the journey of Lemon Andersen in Beth Levison's documentary, "Lemon." The inspiring film follows Andersen's journey as he tries to regain stability for himself and his family by pursuing poetry, acting, and public theatre.
Andersen grew up in a housing project in Brooklyn, where drugs and violent crime were a daily occurrence. His parents were heroin addicts who both lost their lives to AIDS, and he soon dropped out of high school and up until adulthood spent years in and out of jail. After a chance encounter with a microphone and an audience at a spoken word event in El Puente community center in Brooklyn, Andersen discovered his calling. The thrill of performing poetry launched Andersen on a completely different path.
By all accounts, Andersen threw himself into the work of poetry and theatre with a vengeance. He began performing at places likes the Nuyorican Poets Café and began working for the theatre group at El Puente center. He joined a Bronx ensemble group and gave a stellar performance in "Slanguage," directed by Jo Bonney. This Off Broadway appearance caught the eye of HBO's "Def Poetry Jam," which in turn led him to Spike Lee, who cast Andersen in several films.
The succession of acting and poetry jobs was not as quick as it seems, however. After the end of "Def Poetry Jam" Andersen had trouble finding steady work, and was forced to move back into the projects with his wife and daughters. In part the film documents this struggle to sustain work in order to break out of the cycle of poverty, support his family, and achieve the stability all of us crave. It is also much more than that: "Lemon," aims at showing the struggles of "a generation living on the margins and fighting for something more," Levison says.
The critical acclaim has poured in for Andersen, earning him a Tony Award as a cast member in Russell Simmons' Def Poetry Jam on Broadway and a nomination for a Drama Desk Award. His spoken word performances have led him to be featured more than any other poet on HBO's Def Poetry. He has appeared in Spike Lee's Sucker Free City, She Hate Me, and Inside Man. In 2009, he starred in the Public Theatre's "County of Kings," a one-man show that was live memoir.
The documentary brings Andersen's dynamic presence to a wider audience, and it is her hope that his story of struggle and achievement will inspire viewers. "This wasn't a biopic told in hindsight," adds Levison. "We lived the film and Lemon's story as it unfolded, beat by beat and twist by twist.  Of course, the sweetest surprise…was what became the ending of our film."
The surprise awaits you on Saturday, May 5, at the Bellevue Theater in Montclair.
4:30pm Sat. May 5, 2012 • Bellevue Theater
Official Trailer