Modern Movie Poster Exhibit
Changing the Face of Modern Movie Posters at the Montclair Art Museum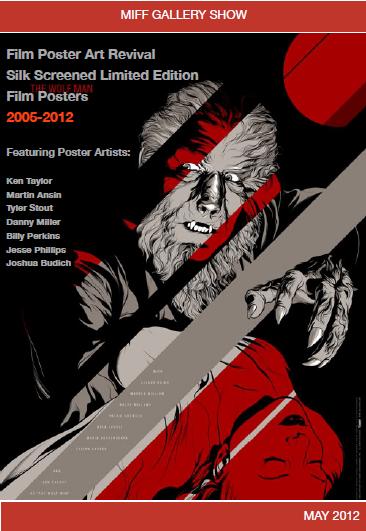 The collection on view at the Montclair Art Museum represents a revival of the craft of film poster art.  Today's film studios for the most part usually just simply copy each other's successful designs and use photos of a star's face to sell a film.
It used to be the norm for noted artists like Saul Bass, Reynold Brown, Bob Peak & Richard Amsel to create arresting images to market a film with lithographic posters (pre-1987) vs. today's cheaply made double sided lightbox posters.
A few new companies, mainly Mondo in Texas have revived the art of film posters and cultivated a new generation of film poster artists who create limited edition silkscreen art for special screenings of cult and current films.  The Alamo Drafthouse chain in Texas and their 'Rolling Roadshow" program, the Colony Theater in North Carolina, Castro in San Francisco, Enzian in Orlando, regularly produce new works to market their screenings.
Some major studios are now turning to this new pool of artist to help with marketing campaigns.
Of the 20 pieces (tent.) presented at the Montclair Art Museum, the artists represented include:
Martin Ansin
Kevin Tong
Tyler Stout
Billy Perkins
Jeff Kleinsmith
Todd Slater
Jesse Phillips
Joshua Budick
Ken Taylor
Montclair Art Museum
3 South Mountain Avenue
Montclair, NJ 07042
Admission FREE with Montclair Film Festival ticket stub.
Wednesday-Sunday, May, 2 – 6
Noon – 5:00 pm