An Evening with Kathleen Turner
By Gene R. Sower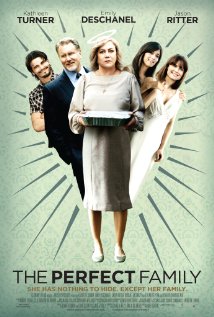 As a run-up to her new film, The Perfect Family, Kathleen Turner delighted a Montclair Film Festival audience at the Bellevue Theater with stories and insights from her long and illustrious career.
Beginning with her first movie, Body Heat, Turner described working with first-time director Lawrence Kasdan and actor William Hurt, who was only making his second film, and how the three of them felt like "rebels — us against the system."
She also talked about how her father disapproved of her acting profession and described it as "one step up from being a prostitute."
But luckily for movie goers Turner was determined to pursue her love of acting, going on to work in such classics as Romancing the Stone, War of the Roses, Prizzi's Honor, Peggy Sue Got Married,  and of course, voicing maybe the sexiest cartoon character ever drawn, Jessica Rabbit, who famously intoned in her deep sultry voice, "I'm not bad.  I'm just drawn that way."
And speaking of her voice, Turner talked about how her deep voice was a detriment to her early career, making her sound older than she was.  "When I was in high school they put me in the boys choir," she quipped.
On working with directors, "And at the risk of being sexist," she said she preferred women directors because  "…women don't have the ego that says 'do it my way.'  They're more like 'show me how you do it.'  They're more open.  Feel  less threatened."  Turner was joined on stage by first-time director Anne Renton who directed the newly released The Perfect Family, which will play to a sold out MFF audience this Saturday at 2pm.
Working with famed director John Huston on his last film, Prizzi's Honor with Jack Nicholson, Turner commented on how very ill Huston was at the time, limiting his movements so as not to expend unnecessary energy while tethered to an oxygen tank.  "He gave Jack and I such freedom to work on our scenes, he'd say 'call me when you have something.'  Then he'd look at his cinematographer and ask 'can we shoot that?' and if he said yes he'd say 'Ok, let's do it!"
Turner is heavily involved with several causes, most notably Planned Parenthood, City Meals on Wheels in New York and People for the American Way, an organization that promotes the protection of the First Amendment and the right of free expression while keeping a watchful eye on extremist groups on the far right.  "Part of our job in this world is to make the world a better place, right?" she asked.
Even though she's starring in a new film, these days Turner says her life is centered on live theater and the fleeting nature that makes it special. "What happens on that stage with that audience will never be repeated.  It's part of the aliveness ."