By Liz Dircks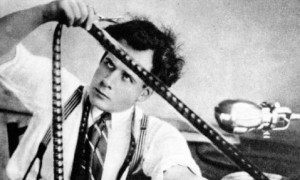 Rory Albanese and Adam Lowitt took time from their busy schedules producing Comedy Central's The Daily Show with Jon Stewart to give Montclair Film Festival attendees their hilarious takes on old, educational film clips.
Albanese and Lowitt played to a sold-out crowd in an intimate setting at the Clairidge Cinema, offering their comedic insight to obscure (and somewhat bizarre) clips for "The What-Is-It?"
The event was co-presented by the Orphan Film Symposium, an organization based in the NYU Tisch School for the Arts that preserves "orphan" films, or films that don't appear to have owners.
After a brief introduction by festival director Thom Powers, and a few words from Symposium founder Dan Streible, Lowitt was brought in, noting the absence of a stage and describing himself as looking more like "a rogue usher" than a comedian. Albanese followed a few minutes later, discussing the implications of growing up on Long Island as part of his warm-up. He quipped that the event would not be "a PG demonstration," and told the audience, "I really hope you're all stoned."
Following the warm-up, the two dove right into five short film clips, dealing with the topics of coming of age, the dangers of rock and roll, marijuana, buying alcohol, and how to find a suitable husband. For  the better part of an hour, the audience was entertained by things like "blowing pot," well-lit shots of phones, and a creepy reappearing doll, just to name a few.
The event, which seemed to invoke the spirit of midnight movie call-outs, was a success, exploiting the cultural gap between the films and the present day for comedy. Putting different words in the mouths of the on-screen actors proved to be just as hysterical as the films themselves. Albanese and Lowitt have perfect comedic timing, an essential trait for producing one of the most popular satirical shows on television. They had the audience writhing with laughter from the very beginning.
See the full gallery HERE