By Merve Fejzula
If it were not for Martin Scorsese's non-profit, the Film Foundation, The Red Shoes may not have made it to a screening at the festival on May 6. Mold had been eating into the emulsion, but a lengthy restoration process at UCLA returned the film to its original Technicolor glory.
So narrated Thelma Schoonmaker-Powell, a film editor who has worked extensively with Scorsese, from the days of Raging Bull until the recent Hugo. Schoonmaker is also the widow of Michael Powell, one of the directors of The Red Shoes. If that were not enough, Margaret Bodde, executive director of the Film Foundation and a Montclair resident, was also present at the screening.
In a question and answer session with festival co-director Thom Powers, Schoonmaker delved into the restoration process. She presented a clip of a pre-restored and post-restored The Red Shoes to show the incredible difference between the prints.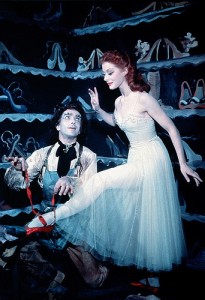 Scorsese considers The Red Shoes one of his top five favorite films. The characters' devotion to their art is emblematic, Scorsese has told Schoonmaker, of the notion that "art is worth dying for." The foundation preserves this and other endangered films from otherwise vanishing.
Long before establishing the Film Foundation, Scorsese sought to preserve the legacy of Michael Powell in a different manner. A thorough student of Powell and his creative partner, Emeric Pressburger, Scorsese revived their then fallen reputations by reintroducing them to his generation of artists and film lovers.
Powell was rejuvenated by the young director's efforts and often said of that time, "the blood started to run in my veins again," reported Schoonmaker. Joining Powell and Scorsese for dinner one night, she soon fell in love with him and the couple later married. She described her ten years with him as among the happiest of her life. Thankfully for her and all of us, Powell's work has not only been preserved but warmly embraced.
More photos HERE