Inocente Wins Academy Award
Congratulations to Inocente directors, Sean Fine & Andrea Nix, winners of the Academy Award for Best Documentary Short Film! Last year the award-winning husband and wife documentarians took to the crowdfunding site, Kickstarter to raise funds to finish and promote their film about Inocente, a documentary the Montclair Film Festival was proud to present as part of its inaugural festival line-up, and last Sunday at the Underdog Film Festival at Montclair State University.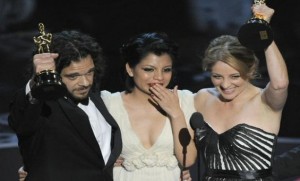 The film is the first crowd-backed film to win an Academy Award. When Inocente's co-director Sean Fine introduced her to the world during his acceptance speech, his words were genuine and heartfelt . "We want to thank this young lady who was homeless just a year ago and now she's standing in front of all of you," he said. "She's an artist and all of you are artists and we feel like we need to start supporting the arts. They're dying in our communities. And all of us artists, we need to stand up and help girls like her be seen and heard. It's so important. Thank you."
Inocente is an intensely personal and vibrant coming of age documentary about a young artist's fierce determination to never surrender to the bleakness of her surroundings. Hers is not just a story of survival, but of resilience. At 15, Inocente refuses to let her dream of becoming an artist be caged by her life as an undocumented immigrant forced to live homeless for the last nine years.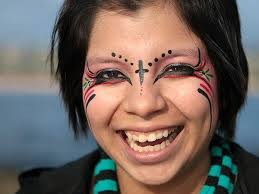 Color is her personal revolution and its extraordinary sweep on her canvas creates a world that looks nothing like her own dark past – a past punctuated by a father deported for domestic abuse, an alcoholic and defeated mother of four who once took her daughter by the hand to jump off a bridge together, and an endless shuffle year after year through the city's overcrowded homeless shelters. Told entirely in her words, we come to Inocente's story as she realizes her life is at a turning point, and for the first time, she decides to tale control of her own destiny. Inocente is both a timeless story about the transformative power of art and a timely snapshot of the new face of homelessness in America — children.
You can download the film through iTunes. Prints of artwork seen in the film can also be purchased through Inocente's art website.