by Abbe Harris
MFF Captures Audience with Screening of Venus and Serena in Honor of Black History Month
A diverse and enthusiastic crowd didn't let a miserably rainy day stop them from celebrating Black History Month with the Montclair Film Festival and their free screening of Venus and Serena at the Glenfield Middle School on Saturday afternoon.
As moderator an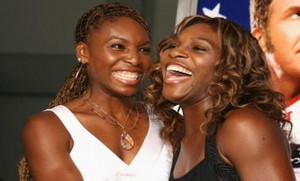 d acclaimed journalist Adaora Udoji noted, it was the first time MFF has hosted an event in Glenfield's 550 seat auditorium, following last May's first Festival with its spotlight on African American filmmakers…then urged all newcomers to join the Montclair Film Festival!
Also on hand to welcome guests were Wil Adkins, President of co-sponsor Montclair Fund for Educational Excellence, Thomas Reynolds, President of the Montclair Chapter of NAACP and Montclair Fourth Ward Councilor Renée E. Baskerville, M.D., all of whom thanked MFF for their commitment to the community.
Black History Month was the perfect opportunity for the Jersey premiere of Venus and Serena, a film by Maiken Baird and Michelle Major, that had its world premiere at the 2012 Toronto International Film Festival, where MFF's Festival Director, Thom Powers, is the documentary programmer.
A story of the dogged determination of two sisters who had a vision from the time their father, Richard, put rackets in their hands as children in Compton, CA, the Williams sisters may not have been the first African American female tennis champions (that would be Montclair's own Althea Gibson), but it is far from an understatement to call them a true phenomenon.
Director Michelle Major deftly intersperses their history with a year in the life, 2011, one of their most challenging, which had Serena suffering from a lung embolism as well as a serious foot injury, and Venus diagnosed with Sjögren's syndrome, an autoimmune disease, as well as hip and shoulder injuries. Both were sidelined for the entire year.
While so much has been written about them over the course of their careers, there were revelations both small and large within the interviews that Major chose to include in the 92-minute film, edited from over 450 hours of footage:
Their mother, Orecene, wanted them to be proud to be women of color, thus encouraged them to wear those iconic beads at the start of their career.
Serena, who has been lambasted for lashing out at a linesperson after a highly questionable call in the 2009 U.S. Open semifinal, was defended by none other than former President Bill Clinton, who noted that when a world class athlete does something self-destructive, perhaps we should cut them a little slack. That comment met with cheers from the audience. For her own part, Serena admitted on camera that she hates losing even more than she likes winning, a line also uttered by Brad Pitt as Oakland A's manager Billy Beane in last year's Moneyball.
Vogue editor Anna Wintour pointed out how they've changed the look of tennis with their fashion choices and noted that attention must be paid to them.
Of course, there's no denying their success on the court, made even more incredible when you realize that if they didn't have each other to compete against, you could probably double the number of each of their grand slam titles.
But perhaps most importantly, their desire to give back to their community by regularly coaching African American children was nothing short of inspiring.
Director Michelle Major, who grew up in New York, always felt Montclair was a close neighbor. She said: "Their story is so inspiring, so unique and they've always gotten a bad rap in the press. We know these women worked really, really hard to get where they are. By the time they agreed to the film, they were in the hospital, they were sick, they weren't playing in tournaments. But they've made incredible comebacks, and spending time with them was an unbelievable learning experience…I hope audiences will be inspired as well."
Venus and Serena will be released theatrically on May 10.
View the Facebook photo gallery of this event, https://www.facebook.com/media/set/?set=a.433259990087854.101443.237240713023117&type=3.