Kidz Shortz Filmmaking Competition Announces Winners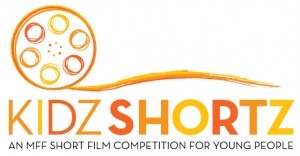 For Immediate Release
Contact
Beth Taylor Hart                      201.757.3667              bethart@gmail.com
Abbe Harris                             908.233.7990              abbe@caramar.net
MONTCLAIR FILM FESTIVAL'S KIDZ SHORTZ
FILMMAKING COMPETITION ANNOUNCES WINNERS;
FILMS TO BE SCREENED AT FESTIVAL, APRIL 29-MAY 5
(Montclair, March 1, 2013) -The Montclair Film Festival today announced the winners of their 2013 Kidz Shortz Filmmaking Competition, now in its sophomore year. Once again, it was a great success in keeping with MFF's mission of nurturing and showcasing talented filmmakers from around the world while creating a cultural focal point for the Township of Montclair and its neighboring communities.
Kidz Shortz '13 saw 111 registrants from three countries, 23 states and 17 different towns in New Jersey. Said Jury member Chris Gifford, creator of Dora the Explorer about the entries: "They were totally refreshing. These young filmmakers are bold, inventive and fearless. I was knocked out by the variety of approaches they took in telling their stories. The technical craftwork was especially impressive."
The Kidz Shortz Awards Ceremony will be held on March 28 at The Clubhouse on Glenridge Avenue in Montclair at 7:00 pm. For the second year in a row, it will be hosted by beloved actor Roscoe Orman, best known for playing Gordon on Sesame Street. Winners will receive free digital filmmaking classes at the Montclair Art Museum and their films will screen during the annual Montclair Film Festival, April 29-May 5.
This year's jury included Chris Gifford, Co-Creator/Executive Producer, Dora The Explorer; Anneka Jones, Head of Development, LEFT/RIGHT; Lisa B. Martin, Media Services Supervisor, College of St. Elizabeth; Anthony Pemberton, Independent Filmmaker and Associate Professor, Department of Communications and Media, Montclair State University; Lucas Platt, Television Producer; Gary Schneider, Director Education, Montclair Art Museum; and Michael Uslan, Executive Producer, Batman; The Dark Knight trilogy.
Become a member of The Montclair Film Festival at http://www.montclairfilm.org.
KIDZ SHORTS 2013 WINNERS
CINEMANIACS
GRADES 4-6
GRAND PRIZE
A Trip to the Movies
Solo Project
Lily Jones, Hillside Elementary School, Montclair, NJ
2ND PLACE
Untitled
Less Than 3 Filmmakers
Evan Kurtz, Ben Reynolds Homeschooled, School of the Arts
STORYTELLERS
GRADES 7-9
GRAND PRIZE
Untitled
Solo Project
Grace Gorant, Mount Hebron, Montclair, NJ
2ND PLACE
Untitled
Solo Project
Kaylyn Jaeger, Linden High School, Linden, NJ
GRAND PRIZE
Untitled
Class Project
Devon D'Andrea, Alex Cahanap, Maherlyn Morency, Riley Levin,
Alea Krouse, Williamstown Middle School, Williamstown, NJ
2ND PLACE
Don't Start
Kayla Phillips, Mount Hebron, Montclair, NJ
VISIONARIES
GRADES 10-12
GRAND PRIZE
Painted Love
Solo Project
John General, Warren Hills Regional High School, Washington, NJ
(Tie for Second Place)
Untitled
Solo Project
Ryan Callahan, Warren Hills Regional High School, Washington, NJ
No Regrets
Solo Project
Alfie Barker Leeds, West Yorkshire, England
GRAND PRIZE
Fatman
Class Project
Tom Fama, Ryan Mulvihill, Adam Cole, Warren Hills Regional High School, Washington, NJ
2ND PLACE
Doppelganger
Tom Kaspereen, James Freeman, Will Monahan, Kevin Kapral, Warren Hills Regional High School, Washington, NJ
HONORABLE MENTIONS
Original Score
Somewhere in the Nation
Jeremy Stepansky and Maya Stepansky Renaissance Middle School, Montclair, NJ
Special Effects
The Fight
William Sokoloski, Columbia High School, Maplewood, NJ
About The Montclair Film Festival
The Montclair Film Festival (MFF) is a non-profit, tax-exempt (501(c)(3)) community-based organization that produced its first multi-day, multi-venue Film Festival in May 2012.  MFF exists to nurture and showcase the talented filmmakers from around the world while creating a cultural focal point for the Township of Montclair.  The second annual Montclair Film Festival will take place April 29 – May 5, 2013.  For information about MFF, visit www. montclairfilm.org/.
About The Montclair Art Museum
The Montclair Art Museum, a notable, community-based institution with an international reputation, boasts a renowned collection of American and Native American art that uniquely highlights art making in the United States over the last three hundred years.  The Museum's education programs serve a wide public and bring artists, performers, and scholars to the Museum on a regular basis.  The Montclair Art Museum is located at 3 South Mountain Avenue in Montclair, N.J. Information and directions are available at www.montclairartmuseum.org.
About Barista Kids
Barista Kids is a hyperlocal blog with a mission to make life a little easier and a lot more fun for parents in Baristaville.  For information on advertising, write to ads@baristakids.com.  Send press releases and tips to tips@baristakids.com.
__________________________
Kids Shortz is sponsored by American Express and made possible with support from the Montclair Art Museum and Barista Kids.