The Crash Reel Packs a Punch
by Jorge Lucas
Of the many hard-hitting documentaries closing out this year's Montclair Film Festival, only one took us to the extremes of action sports. The Crash Reel addresses the oft ignored dangers of action, or what we call "extreme," sports through Kevin Pearce, a 2009 Olympics hopeful whose snowboarding career came to a tragic end when an accident left him with a traumatic brain injury (TBI). While the graphic footage of action sports injuries will leave you wary of the fragility of the human body, Pearce's story acts as a testament to the strength of the human will.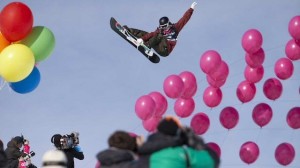 Sunday's intimate crowd seemed unsuspecting of the imminently heart-wrenching story. What could one expect from a snowboarding film besides exhilarating stunts and plucky daredevils? The exposition, detailing Kevin Pearce's rise to stardom, highlights his glamorous celebrity and glorifies his momentum from boy wonder to teen sensation. Pounding dance beats and dazzling lights of the competitions electrified the theater.
Pearce shares his ascent to success with Shaun White, now a snowboarding poster boy and household name. It's when Pearce suddenly starts to surpass White that their friendship turns sour and their competition furious. Their respective sponsorships (White with Red Bull and Pearce with Nike) only magnify the rivalry as each company builds private half-pipes to help them prepare for the Olympics.
Pearce and his friends embark on a tour to practice for the Vancouver Winter Games, from which Pearce is expected to emerge with the gold medal. On New Year's Eve, 2009, while attempting a difficult half-pipe maneuver, Pearce lands on his face and suffers a TBI. That's when the theater's mood changed. The audience watched with bated breath; the air remained taut for the rest of the show, broken only by the occasional sniffle or pained groan at footage of other injuries.
And there certainly is a lot of footage – not just illustrating the world of action sports, but recording Pearce's life as well. The filmmakers were able to collate footage from 233 different sources to create an amazingly cohesive and thorough narrative of events, both in the spotlight and inside his intimate circle of family and friends.
In a Q & A session after the screening, director Lucy Walker shared this amazement, saying, "I feel like you can't tell when we started filming him. And it feels like we must have started filming him at some point after 11 months when he was a baby." Walker hadn't met Pearce until after the crash, but she said, "One of the reasons I wanted to do the film even though I missed so much of the story was that I realized that the story was not over yet."
And how right she was. The Crash Reel, which opened this year's Sundance Film Festival, goes on to chronicle Pearce's dramatic progression from incapacitated mute to rehabilitated snowboarding announcer, though not without memory loss and eyesight problems. The journey is fraught with anxiety for Pearce's family when he resolves to return to his former snowboarding glory. He stubbornly ignores the possibility of paralysis or death from another blow to the head, as well as the medical bills and anguish that would befall his family as a result.
The HBO Documentary raises the volume on the discussion surrounding medical insurance in action sports, the only sport in which athletes are not insured. This is ironic considering the very nature of the sport, an extremely high-risk spectacle in which accidents are almost welcomed by spectators.
Lucy Walker also introduced the #LoveYourBrain campaign that grew out of the research for the film. It is an initiative that promotes awareness and safety to prevent TBIs, and it now has Kevin Pearce traveling the world and speaking on its behalf . For more information, visit The Crash Reel on Facebook and feel free to leave any questions on the wall for Lucy Walker.
Click here to listen to audio of the Q & A session with Lucy Walker.