Summer Series Kicks Off with Annie!
Join us at sundown on Fri. May 31st at Presby Iris Gardens for a free outdoor sing-along screening of Annie.  Movie will begin at approx. 8:45pm; raindate is June 1.  Bring a lawn chair and be ready to sing to lyrics on the big screen!
Directed by John Huston, this 1982 classic features a star-studded cast including Albert Finney, Carol Burnett, Ann Reinking, Tim Curry, Bernadette Peters and many others.  Popular songs include "The Sun Will Come Out Tomorrow", "It's a Hard Knock Life" and "Maybe".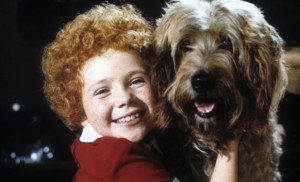 Synopsis: In the depths of the 1930's, Annie is a fiery young orphan girl who must live in a miserable orphanage run by the tyrannical Miss Hannigan. Her seemingly hopeless situation changes dramatically when she is selected to spend a short time at the residence of the wealthy munitions industrialist, Oliver Warbucks. Quickly, she charms the hearts of the household staff and even the seemingly cold-hearted Warbucks cannot help but learn to love this wonderful girl. He decides to help Annie find her long lost parents by offering a reward if they would come to him and prove their identity. However, Miss Hannigan, her evil brother, Rooster, and a female accomplice, plan to impersonate those people to get the reward for themselves which put Annie in great danger.
SING-ALONG ANNIE
FRIDAY MAY 31 (Raindate: June 1)
Movie starts at sundown – approx 8:45pm
Essex County Presby Memorial Iris Gardens
474 Upper Mountain Avenue, Upper Montclair
Street parking available on Upper Mountain Avenue and Highland Avenue (the street above the Gardens)