Opening Night Deliciously Delightful!
by Glenn Schuster
Monday night's screening of Jon Favreau's Chef at the Wellmont Theater kicked off the 3rd Annual Montclair Film Festival in style! The excitement in the packed theater was palpable as Bob Feinberg, the Festival's founder and chairman, took the stage to thank the sponsors and Festival staff and speak briefly about how far the Festival has come in its three short years, noting that last year's opening night film, 20 Feet From Stardom, went on to win the Academy Award for Best Documentary Feature. Next came Thom Powers and Raphaela Neihausen, the festival's husband and wife co-directors to talk about this year's amazing Festival line-up and even extol the virtues of our fair town before introducing the film.
And what a treat the audience received with Chef, a passionate, fast paced, entertaining film with hardly a dull moment in it's 115 minute running time, with enough food porn to keep you salivating through just about every scene (don't see it on an empty stomach)! There's also a very funny subplot about the technology gap between the tech-savvy youth of today and the 40-something set seamlessly woven throughout.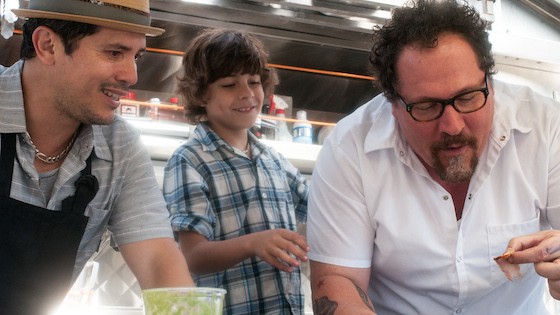 When the credits rolled the audience erupted into rousing applause, not only for Chef but for the Montclair Film Festival itself. Afterwards, Thom Powers was joined onstage by John Leguizamo who answered several questions about the making of the film with his usual brand of quick wit. Thom fired one back after Leguizamo mentioned that the film was about a love affair with food, and he quickly replied "You mean like in American Pie"?
The film was followed by a lively reception on the theater's ground floor with music, free-flowing drinks and passed hors d'oeuvres. And the much loved local food truck Taqueria Autentica was parked right outside the entrance serving tacos all evening long. It was a fun and spirited gathering of local and non-local film lovers alike to celebrate the incredible success of the Montclair Film Festival, a festival that we're proud to call our own.
Click here to view more great pics from MFF 2014 Opening Night!
Click here to view the fab Opening Night highlights video!