"Women Aren't Funny" Really?
by Joyce Kaffel
In the film, Women Aren't Funny, comedian Bonnie McFarlane is on a quest for her own holy grail which is the answer to the burning question of whether or not women are funny, as judged by male and female comics, and a few regular people. She calls her film a "cocumentary," a comedy documentary. But she said that in the film to get a laugh, and she got it.
The Bellevue Theater was packed with an audience that, apparently. also was curious about how high the laugh meter goes for funny females. The film was directed by McFarlane and executive produced by her seasoned comedian husband, Rich Vos. Both were at the screening for a post-film chat with MFF host Eric Johnson,.
A motivating factor in McFarlane's plight to find the truth about the degree of levity that women can create was an article written by Christopher Hitchens for Vanity Fair Magazine with the insulting-to–female comics title, Why Women Aren't Funny. When she found out that Hitchens would be in Philadelphia at the same time that she and her husband were performing there, she did all she could to get an interview with him, but that didn't work out. When she finally got an opportunity to meet with him, he was a no-show. He had a good excuse, she says in the film, "he died at 62."
McFarlane took on the role of an investigative journalist in the pursuit of her undying need to know how women are perceived comedically. Her roster of film interviewees and film clips of comics includes Joan Rivers, Lisa Lampanelli, Diane Cook, Wanda Sykes, Sarah Silverman, Joy Behar, Tom Arnold, Rosie O'Donell (with a blindfold so nobody recognizes her), Maria Bamford (who has a really funny voice), Jim Norton, Andy Kindler, Marina Franklin and many others who share their points of view.
The battle of the sexes seems to reign supreme in the world of comedy. A number of statistics are given that show how limited opportunities are for stand-up female comics. It's better for women who are in TV sitcoms and who are gorgeous. McFarlane found that comedy club owners have antiquated ideas about women comics. They start out saying that they want to hire them, but in reality are resistant. It's tough for the ladies to get in.
One of the funniest and most poignant scenes in the film occurs when McFarlane is utterly frustrated with the difficulty of being a female comic. She wants to see what it's like to perform as a man. She dresses in a casual "man" outfit, and dons a cap, dark rimmed glasses and a full dark beard, looking much like Woody Allen channeling Fidel Castro in "Bananas." She walks with a guy swagger and is a hit in the comedy club she's performing in as a man. Yet, after the show, she falls into her husband's arms and cries outside the club. She thinks she's awful as a female or male comic. He reassures her that she was great. A sweet moment in the "cocumentary."
During the post-film chat, McFarlane, who shines with a generous smile and perky attitude and her husband, Vos, shared some thoughts in response to audience questions. McFarlane said that at some point in her interviews, she saw that there are some people who really think that women aren't funny. Her husband teased, "Thank God I wasn't interviewed." Vos is a frequent guest on the Opie and Anthony show and often performs at Caroline's Comedy Club and at the Comedy Cellar in New York City.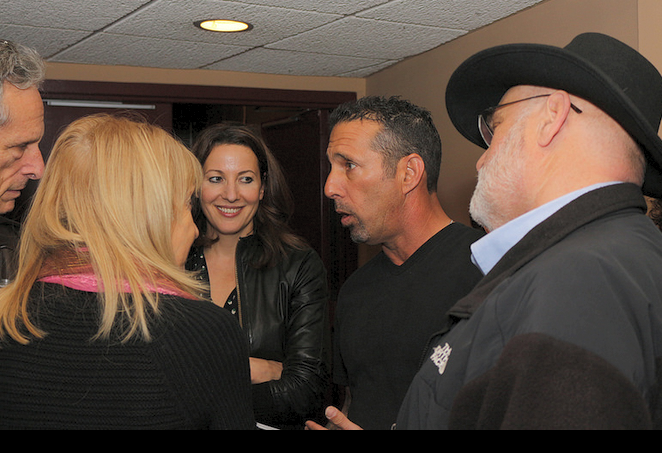 Of their film, McFarlane said, " I really just wanted to make fun of people saying women aren't funny."
Click here to view more pics from the screening.