Althea: Greater than 'Love'
by Caroline Purcell Clark
The lobby of Montclair's Clairidge Theatre was abuzz with pre-film chatter as eager moviegoers congregated for the Thursday night viewing of Rex Miller's Althea. This fantastic, yet bittersweet, documentary on Althea Gibson, the first African American tennis player to win grand slam tournaments in the 1950s *, illuminates the major strides and setbacks that black athletes faced during the mid-twentieth century.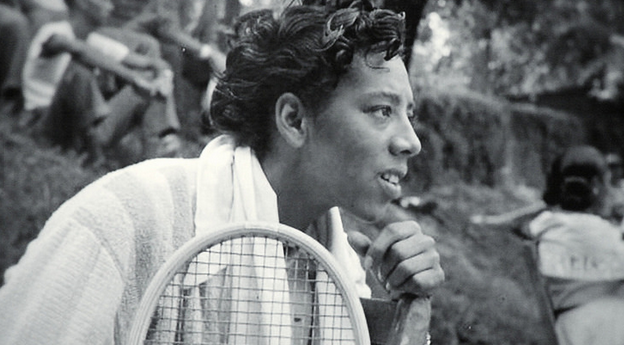 I had the distinct pleasure of speaking with Miller prior to the viewing and was impressed by his charisma and passion. Miller radiated pure excitement for both the game of tennis and the woman that he has spent nearly five years capturing and immortalizing. He made it clear that the film is a "work-in-progress," but emphasized that the reasoning is due to the tedious licensing process. The licensing for this film has been especially challenging and expensive as there are over 400 photographs and dozens of film clips that have been seamlessly incorporated into the documentary.
Althea was incredibly well received by the audience, who made no attempt to hide their laughter, and their occasional disagreement with occurrences in the film. During the Q&A that followed the screening, Jim Johnson asked Miller about the claim that "black people had no use for [Althea] at that time," because Althea did not take an active stance on racial issues and injustice. Johnson inserted that he finds fault with that particular view and was interested in how Rex felt about taking on her story. Rex asserted that throughout the process he has always thought about how Althea would feel if she were here. Rex Miller's motivations for sharing this story and creating this film are clearly stated on the homepage of the documentary's website, "ALTHEA's story is still unknown to most of us. It has been ignored for too long, by too many." **
Ultimately this film resonates because Althea's story is significant. This documentary recognizes Althea as a truly remarkable athlete and human being, though she was not adequately acknowledged during her lifetime. For more information on the film and Althea's story visit the film's website at altheathefilm.com.
Click here for more pics from the screening of Althea.
__________________________
*  "Althea." Montclair Film Fest. Montclair Film Festival, 2014. Web. 1 March. 2014.
**  "Althea: A Documentary About the Trailblazing Athlete, Althea Gibson." Althea the Film. AG Film Project, 2014. Web. 1 March. 2014.