Art and Craft: The Ether of Perception
by Joyce Korotkin
A complex documentary with many subtexts, Art and Craft is a deeply empathic portrayal of schizophrenic master forger Arthur Landis, who for more than 30 years took on the simulated role of philanthropist (which he felt to be his calling and addiction) by donating his own masterfully forged works of art to museums across the country, claiming they were left to him through fabricated scenarios involving an invented, recently deceased sister, Emily, and an implied vast family fortune.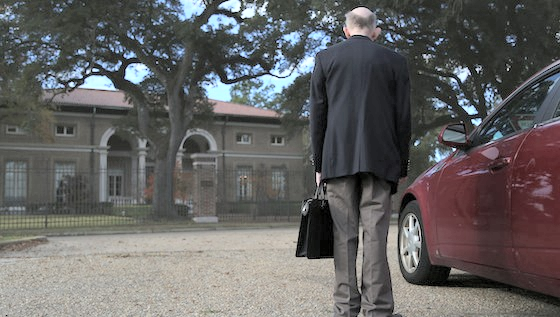 Throughout the film, the audience was wowed by scenes of Landis at work in his living room studio, getting some pretty nifty insights into the forger's craft and techniques and how easily he re-created his 'mischief'–perfect copies of master works presented in 'doctored' frames from stores such as Lowes and aged with nothing more elaborate than spilled coffee, that fooled many museum professionals and connoisseurs alike for decades, but did not fool Matthew Leininger, the one museum registrar who, himself a diagnosed OCD, made it his life's obsession to catch the forger.
More docudrama than documentary, Art and Craft is a probing, sensitive look into the world and mind of Landis and perhaps not incidentally the condition of schizophrenia itself, as well as the toll the search for him took on 'whistleblower' Leininger's own life. But what this film also calls into play are numerous, really difficult questions about legality, ethics, issues of right and wrong regarding the mentally ill, and the very notions of artistic authorship and brilliance themselves that we hold so dear; that which we take to be authentic, canonize as High Art or Genius and afford incredible value to, ultimately based on nothing more substantial than the ether of perception.
The screening was followed by a question and answer period with the Directors, Jennifer Grausman and Sam Cullman, and Co-Director Mark Becker. Rather than focusing on logistical questions about the filmmakers' inspiration, etc. the discussion focused on a postscript to the film's surprising conclusion and how the events that transpired created lasting repercussions in the lives of both Landis and Leininger. From exploring the latter's original attitude of 'fraud is fraud' to questions and answers regarding how profoundly the characters' relationships to each other and their very lives themselves were forever transformed, the audience was privy to a lot of fascinating information, the kind of extras that make the Montclair Film Festival so unique.
Click here for more pics of this event.