No, No: A Dockumentary: A Journey
by Bill Battle
Today, perhaps professional baseball player Dock Ellis is best remembered as a pitcher who, in 1970, just may have thrown a no-hitter under the influence of LSD.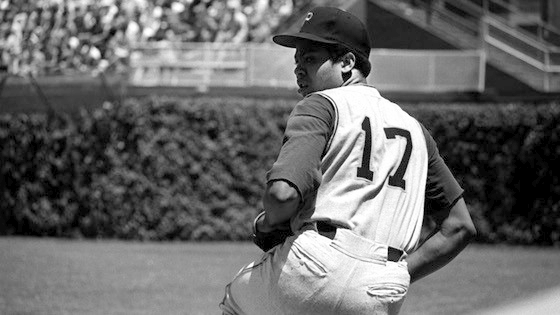 Of course there is so much more to a life and what makes Dock Ellis' story so compelling, is portrayed in the wonderful film, No, No: A Dockumentary. Director Jeffrey Radice effectively presents the life of Dock Ellis as one with an arc that runs from the youthful recklessness of one very talented baseball player, rampant drug user and wife beater to an older, wiser man who survives his own alcohol and drug addictions to finally become a counselor, speaking to prison inmates about substance abuse.
In addition to wonderful, seldom seen footage of Dock's baseball achievements and notorieties including the no-hitter of 1970 and the May 1, 1974 game against the Cincinnati Reds, where he beaned three batters in a row. We also hear Curtis Mayfield on the soundtrack and see documentary footage of bell bottoms, broad collars, the Black Panthers, Soul Train and Mohammed Ali. The outspoken Ellis thought of himself as the 'Mohammed Ali of baseball." Ex-wives, teammates, sportswriters and even Ron Howard, who cast Ellis in a small role in his 1986 'Gung Ho' are all interviewed.
The making of the film lends itself to a detective story. When asked about the historical baseball footage used, the filmmaker Jeffrey Radice explained that "…It was difficult. These were the days when one baseball game a week would be on television and little footage existed. Baseball had not yet become a billion dollar business. We did not want to go through Major League Baseball. Some of the footage came from the Roberto Clemente Museum and some from eBay."
Whether you consider yourself a baseball fan or not, I'm sure you will find No, No: A Dockumentary enjoyable as well as enlightening.