Advanced Style: In Living Color
by Kimberly Cecchini
Spiky pink hair, fiery orange curls and oversized silver cuffs. No, Advanced Style is not about adolescents experimenting with their identify, it's about mature women asserting their character through the art of fashion. In a culture that equates aging with fear, each of the women highlighted in this documentary confidently and unabashedly take joy in uniquely presenting themselves in their advanced stages of life. And many of them do so in very vibrant, living color.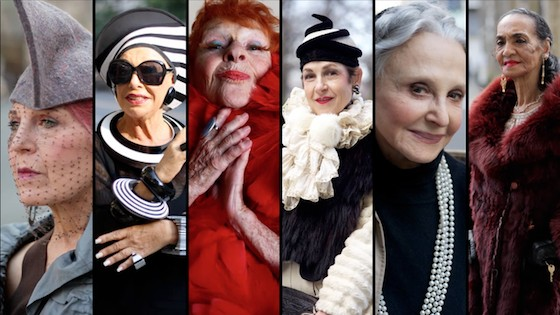 Advanced Style begins with photographer Ari Seth Cohen, approaching well dressed women in Manhattan to include on his now renowned blog by the same name. At the behest of his own cherished grandmothers, he had moved to the city in search of inspiration and he found it in older women who consciously or inadvertently have used the city's broad avenues as their personal runways. As he "roam(s) the streets of New York for the most stylish and creative older folks," he focuses on women who embrace their advanced age. Through these images, he celebrates their styles and seeks to shift the prevailing notions of how beauty and style is marketed to us in our culture.
The film paints portraits of six vibrant women from sixty-two to ninety-five who Cohen has featured; it provides insight into the art of their styles, their backgrounds and their strength in embracing their own aging despite its inherent challenges. The women's styles are a reflection of their individual personalities and backgrounds. Among the ladies is a spunky eighty year old owner of the Off-Broadway Boutique with a penchant for elaborate accessories and her more refined counterpart whose outfits often consists of more subtle colors and accents such as her signature strand of pearls.
Director Lina Plioplyte and two of the films subjects attended the showing. Eighty-one year old Jackie "Tajah" Murdock's long, lean frame is a reminder of her years as an Apollo Theater dancer. She was pleased to pose for a full length photograph in an elegant white pant suit embellished with gold designs in front of the step and repeat. Ilona Royce Smithkin, at 93, seemed to bask in the spotlight and had adorned herself with a palette of colors. Despite her short stature, the successful visual artist stood out in the crowd with her fiery hair and her signature long eyelashes.
The women are realistic about their stages of life and mortality seems to drive their quests to squeeze more out of life. Two of them are filmed singing, another one spoke about designing her wardrobe from weavings she had purchased overseas and a group of them participated in a flash mob senior fashion show that Cohen orchestrated during New York's Fashion Week. With an appetite for life, Ms. Smithkin still faces her own aging with levity. In regards to a potential television appearance, she states, "…I myself cannot make a commitment because I really don't know what my body is doing. From the waist up I'm wonderful, from the waist down, don't ask don't tell."
Fortunately, Ms. Smithkin and Ms. Murdock had plenty of energy for the Q&A segment. Montclair warmly received the women, giving them a standing ovation as they approached the front of the theater with Plioplyte for their interview with MFF's Executive Director, Raphaela Neihausen. The sentiment of the first comment from the crowd was echoed by other women and the twenty-something director, "I think that every women who is mourning their youth should see this; it was such a joy." The women and the presentation of Advanced Style not only challenge the fashion world but, also, our own perception of self as we age. These women are proof that life after sixty can be fashionable and fabulous!
Click here for more great pics from the Advanced Style screening.