by David Polinchock
I was asked to cover Jammed at the last minute and hadn't really done any research before heading over to theater on Saturday night. When I got into the theater, I found a very enthusiastic crowd waiting for the movie to begin. The lights went down and the audience was definitely ready for the movie.
The movie follows Rachel and Evan (real life couple David Bly and Leah Rudick) as they head upstate to attend a jam festival. Rachel wants to capture the last show of the Epic Concept. She wants to film a documentary about the band and has brought Evan along to help her with the project. Right from the start, you know this is going to be a rough weekend as Rachel has just informed Evan that her ex Mike (Chris Roberti), will be there as well. That kicks off several conversations about honesty in relationships and a pretty embarrassing sex scene in the car.
Unfortunately, not only is Evan a fish out of water in this environment, at one point one of the concert goers tell him that "he's happy on the inside, he just doesn't want anyone to know it." But he also isn't very helpful to Rachel in making her movie. Forgetting to start the recorder, he loses all of the interviews they initially capture.
Upset, Rachel decides to go listen to some music, asking Evan to take the camera back to the car until morning and they'll shoot again. Putting it into the truck, he doesn't slam the trunk hard enough, it pops back open and come morning, all of their equipment is gone.
Mike convinces Rachel to go enjoy the festival, while Evan goes off on a quest to find the stolen camera. Of course, their relationship seems strained as it looks like Rachel is starting to enjoy being with Mike and, of course, Evan is uptight about the camera and the whole festival atmosphere and it doesn't look like things are going well for them.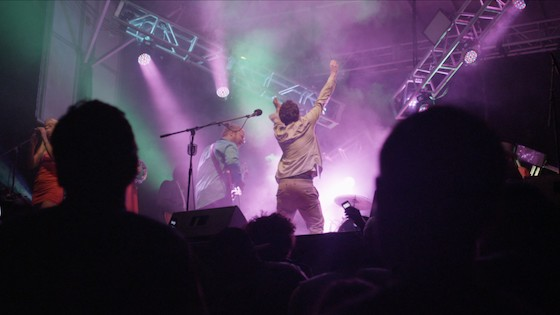 Rachel and Mike try to get Evan to relax, convincing him that the beer he drank contained acid. Rachel tells him he can have a good trip or a bad one, he just needs to let go. And he does. Joining bands on stage to dance, saying hi and talking to everyone, Evan comes out of his shell and does enjoy the night. He has an intense conversation with Mike, confiding that he doesn't really have good friends. Mike declares Evan "his BFF" and invites Evan and Rachel to join him next weekend to keep the party going.
Later, Evan finds out that both Rachel and Mike lied to him, there was no acid in his drink and he feels betrayed once again. He goes off again in search of his lost camera, this time finding it with the first "hippie couple" they interviewed. Having found the camera, they proceed to create the documentary Rachel set out to make. She, of course, is upset that it wasn't her film and decides she wants to return to NY without having seen the Epic Center. Evan decides to stay and is almost left behind by Rachel.
One thing that was great about this screening is that it was very clear the audience really liked the movie and the filmmakers. In person for the Q&A after the screening were Director Yedidya Gorsetman, Producer Josh Itzkowitz, Writer Mark Leidner and Actors David Bly, Leah Rudick and Chris Roberti. Shooting in just 9 days, with three of them at an actual festival, they overcame some challenges to make the film. Asked about the message, Writer Mark Leidner talked about how we bring a lot of prejudice when we're entering a new culture and how this movie explores that theme. I enjoyed it and would certainly see it again!
Click here for more pics from the screening!