Sandy Unites a Shore Community
by Alison Crisp Stockley
Making its New Jersey premiere, Landfall: The Eyes of Sandy, chronicles the hours before and months after Superstorm Sandy as it hits the Jersey Shore and devastates the tight-knit community of Long Beach Island (LBI). First-time documentary director A.D. Pearson and producer Corinne Ruff, a long-time resident of LBI, combine stunning storm footage and interviews with locals to capture this heartbreaking story of loss and recovery. Composers Michael Engesser and Halley Feaster lend a touching score to the film that personifies the strength, spirit and generosity of the Islanders as they struggle to rebuild the community they cherish.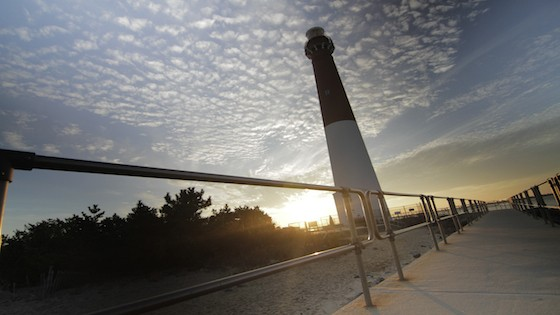 "Storms don't turn left." But that's exactly what Sandy did. And on Sunday, October 28, 2012, members of surrounding towns including Mud City, Ship Bottom, Beach Haven and Surf City braced for what would later be known as the second-costliest hurricane in United States history. The audience witnesses the Atlantic Ocean meeting the bay, rolling down the streets, water levels rising several inches within minutes. Those that decided to stay on the Island see their homes and businesses almost disappear. One local describes the inside of his house as if "someone turned on a blender." With no electricity, no communications systems, and search and rescue teams shut down, locals look on helplessly as their hometown turns into a "surreal war zone." Suddenly all grows quiet, and the eye of Sandy is seen in the ocean under the one light remaining—the full moon.
After the storm, LBI and neighboring Stafford Township pulled together as a family. Jetty, a local apparel company, began printing t-shirts for the "Restore the Shore" relief effort. Within 24 hours, they were flooded with 2,500 online orders. They used Facebook to help spread the word, uploaded pictures of the area's progress, and raised $10,000 initially to fund supplies and basic necessities to the displaced. Non-profits soon got involved, including Waves 4 Water and S.T.A.R.T., to organize the volunteer effort, which included everything from making turkey dinners to gutting houses to beach cleanups. The goal—get the town back to normal for the summer 2013 tourist season. Still today, the clean-up continues, and the "new normal" of LBI is that this could and probably will happen again. But the difference now is that they have each other, and the lessons learned from Sandy's destructive path.
Landfall: The Eyes of Sandy is currently part of Delta Air Lines' in-flight entertainment programming. All proceeds of the film benefit The Jetty Rock Foundation, a 501(c)3 charitable organization created with the goal of continuing to aid the families, first responders, businesses and non-profits with long-term needs post-Sandy.