An American Promise, Yet Unfulfilled
by Jessica Gonzalez
American Promise, a new documentary by Joe Brewster and Michèle Stephenson, chronicles the journey of two young boys as they navigate the uneasy waters of being black in the predominantly white New York private school system. Shot over the course of 13 years, the film explores the question of unconscious prejudice and the struggles of raising a child of color in a supposedly "post-racial" America.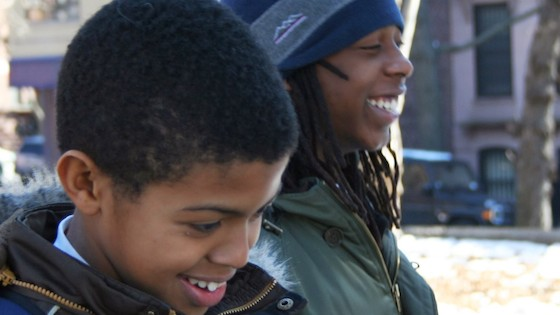 Idris, the directors' son, and his best friend Seun begin their education at The Dalton School, one of the most prestigious private schools in the country. They're both bright young boys with seemingly limitless potential.
But their paths diverge both socially and academically along the way. Largely unhappy and struggling with his grades, Seun transfers to a predominantly African American high school and develops a keen interest in graphic design. Idris remains at Dalton until graduation, anxiously riding an emotional rollercoaster between the pressures of attending a high-caliber prep school and the expectations of his own parents.
Indeed, growing up isn't easy for either Idris or Seun, especially given the fact that their entire childhood is being caught on camera. Idris struggles with ADHD, which goes undiagnosed until his sophomore year of high school. Seun loses his little brother in a tragic home accident. And both eventually come to ask the question their parents dreaded them asking all along: "Would things be easier if I were white?"
American Promise is as much an experiment in parenting as it is a documentary about race issues in America's private education system. The core issue at hand is best summarized in a scene where the parents of the few black students at Dalton meet to discuss their children's shared burden. The bottom line is clear: Until the country's perception of young black men improves, the scale will never be balanced and prejudice—no matter how unconscious—will continue to negatively impact their children's lives and sense of self.
Both Stephenson and Brewster attended the brief Q&A after last Sunday's screening and continued the discussion with audience members in the lobby of the Clairidge Cinema, where they signed copies of the film's companion book, Promises Kept: Raising Black Boys to Succeed in School and in Life. The book, an expanded study of the "achievement gap" most African American boys encounter at some point during their education, is available through Random House.