Black Photographers, Black History
by Merve Fejzula
Ten years in the making, Through A Lens Darkly was clearly worth the wait to the full crowd at the Montclair Film Festival on Saturday evening. Director Thomas Allen Harris attended the screening at the Clairidge Cinema on May 3 for the film's New Jersey premiere.
Shola Lynch, curator at the Schomburg Center for Research in Black Culture and a filmmaker herself, provided an introduction for the film and moderated a Q&A session with the director afterwards. Lynch was well in a position to understand Harris: her film Free Angela Davis and All Political Prisoners screened at MFF last year.
Harris briefly spoke before the screening, where he told the packed crowd of the ten-year journey the film has taken. Conversations with fellow artist and mentor Deborah Willis about her book Reflections in Black: A History of Black Photographers, 1840 to the Present, originally sparked the idea for a film project. In histories of photography, black photographers were often omitted, something Willis has sought to rectify in her art and in her scholarship. Several photographers in the film also cited Willis's work and support of the black photographer community.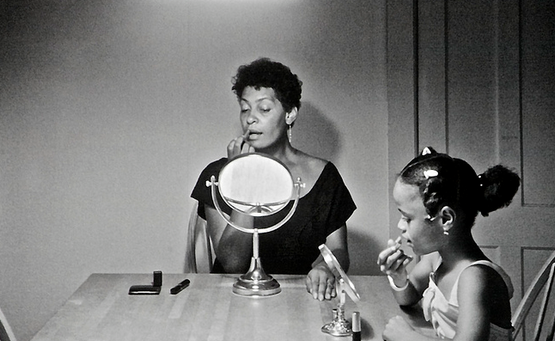 Harris now calls the documentary that resulted from those initial beginnings more of a "cinematic essay." The film has already begun the rounds of the festival circuit, having premiered at Sundance and been screened at the Berlin Film Festival. A wide theatrical release is expected on August 28.
Through the metaphor of the family album, Harris narrates the "essay" to probe difficult topics, particularly "what is missing" from black family albums. Exploring questions of gender, sexuality, race, family, and so much more, Through a Lens Darkly draws out the conflicted legacy of African Americans on film.
On the one hand, there are the stereotypical negative images that abounded in American media. On the other, a more sensitive picture that emerges in the interviews with black photographers and the pictures in family albums. Using his own personal family pictures and stories as a guide, Harris explores what he calls in his voice-over narration of the film, "the war of images within the American family album."
During the lively Q&A after the film, Harris spoke about a parallel project that began as a result of working on the film. Expanding upon the notion of the "American family album," Digital Diaspora Family Reunion: One World, One Family is a multimedia project that allows individuals to upload their family photos and share their stories online. The project has since grown to include numerous different platforms to showcase these incredible stories.
Telling one's own story as a way to correct the historical record is something central to Harris's work by his own admission. In addition to extensive visual art and multimedia work, he has long been a filmmaker. His previous films include É Minha Cara/That's My Face (2001) and Twelve Disciples of Nelson Mandela (2005).
Lynch reiterated the importance of collecting and preserving family photographs in an age of only digital uploads. "If we don't maintain our collections, we don't exist," she said. Harris agreed and added, these personal histories are "part of our national story."