What Kevin Smith is Thinking, Really
So what is Kevin Smith thinking? This Jersey boy is happy to tell you. He'll even tell you that he had gastrointestinal issues on his red eye flight from Los Angeles. He also will tell you he found out upon arrival that Tina Fey had been sitting behind him the whole flight. Fortunately, his fans were eager to hear about it all at the Montclair Art Museum.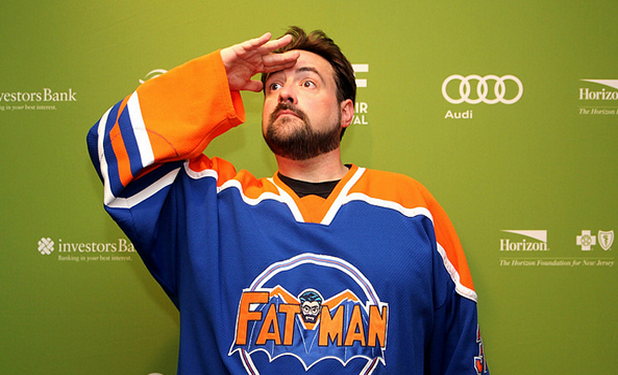 Kevin Smith walked on the stage wearing one of his signature blue and orange hockey jerseys emblazoned with his logo, "Fatman". Ticket holders, many of whom displayed an allegiance to Smith's own interests by wearing comic book and hockey apparel, were excited to hear his tales about filmmaking, podcasting and everything in between.
Fittingly, the Executive who welcomed Smith's Comic Book Man to AMC, joined him on stage as his interviewer. It was also a good match because Joel Stillerman allowed Smith to take over the conversation as his wont to do, quipping that Kevin had done his job for him.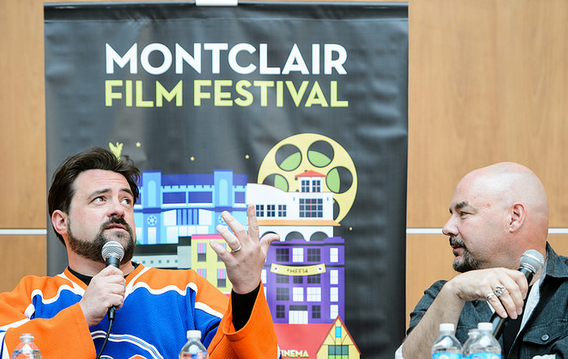 "A Reasonable Amount of Unreason-ability"
The drive to the festival on Sunday harkened Smith back to the days of commuting from the infamous Quik Stop to the apartment he shared with his girlfriend in Montclair. At the time, he had just sunk all of his money from his convenience store shift work and the after hours to tell his first story in Clerks.
It was a gamble more than an investment, but he likened this first filmmaking experience to his brother's coming out story; it just "felt right".
Although earning success as a filmmaker was a long shot, Smith said he held onto "…a reasonable amount of unreason-ability". He was particularly encouraged to continue his film from the middle of New Jersey after seeing a piece in the Village Voice on another independent film, Slacker, from what he thought at the time, was made in "nowhere, Texas". Yet, unreason-ability surfaced on October 3rd, 1993.
Smith had earned an opportunity to show his film on the last day at a small festival, the Independent Feature Film Market. He panicked at first when he saw that 80% of the 10 people in the audience were the people involved with Clerks.
After the first 10 minutes on the big screen, he was "…overwhelmed by how f—ing filthy it was" and thought, "my mother's going to kill me".
Although he reconciled his panic with the thought that he had done something he loved, he still woke up the next day feeling what it was like to lose all the money he had plus 27K in credit card debt.
Anyone coming of age in the nineties knows that was not the end of Clerks. In fact, it took only 3 incoming phone calls the next day in his Montclair apartment to learn that one of the two unknown people at the screening was the ticket for it becoming a cult classic. (The other one had a theory that, "…all the Nazis that lived and died reincarnated and they live in New Jersey".)
Humans Need 3 Things; Food, F——, and to Be Heard
As an eternal storyteller, podcasts are his new love. Kevin grew up listening to Howard Stern and essentially his Smodcast emulates the Stern show at its core; a record of friends conversing about everything and anything. Smith is particularly taken by the newer medium because it currently boasts a freedom that Stern never has fully had; nobody to charge you and nobody to limit your content. In fact, he is so spellbound by podcasts he gave the Montclair audience a homework assignment; record a podcast within the next year.
Kevin Smith is the Only One Who Can Make a Third Clerks
Part of what has driven Smith to take his storytelling to the podcast is because he does not feel he can fully express himself in film anymore. For one, he does not feel he has the creative freedom he once had as making "…studio deals prices (you) out of anything original…" Still, he is not going to stay away from the camera, and, yes, he will make Clerks III. Soon.
In the meantime, Smith cast his daughter and her friend in small roles as clerks in his upcoming horror flick, Tusk. Before it's release, Smith announced at the Festival, that he will shoot a short film based on an indirect spin-off of these clerks. He's making "Yoga Hosers" to spend more time with his fourteen-year-old daughter and because, well, it features clerks.
"You Are the Real Winner"
The Q & A period was opened by a pre-teen boy who told Kevin Smith he was his hero. Kevin modestly deflected the statement by telling the kid he was the "real winner" for beating the biological odds to exist (in a more graphic manner that is shared in the video below) that elicited laughter from the audience.
The young man nervously laughed, "Thank you. I'm very intimidated right now." He then went on to ask if Smith would bring back the animated version after he makes Clerks III; "This is also a question for you," the young man turned to Stillerman, "because you work at AMC".
"Ladies and gentlemen, my agent," Smith gestured towards the kid and answered his question through more storytelling.
Click here for great pics from the event.
This post was written by Kimberly Cecchini