Montclair Film Festival Annual Poster Contest Winner Announced
Montclair Film Festival Annual Poster Contest
Winner Announced
Montclair Resident Amanda Ansorge's Design Chosen for MFF's 2015 Festival Campaign
January 12, 2015 – The Montclair Film Festival (MFF) announced today that Montclair resident and graphic designer Amanda Ansorge's design has been selected by the festival to serve as the MFF's 2015 Festival Campaign.
The design, selected from dozens of submissions to the festival's annual Poster Contest, features a beautiful text treatment and swirling imagery against a bright yellow background and marks an exciting new direction for the festival's brand. The design will be utilized in 2015's MFF posters, banners, publications and advertising as the 2015 festival's signature image.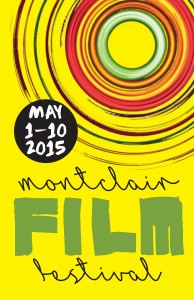 "Amanda has created a beautiful design and we are so pleased to be able to showcase her work," said MFF Executive Director Tom Hall. "Working under the leadership of our Marketing Committee leaders and Board Members Kelly Coogan Swanson and Lisa Ingersoll, MFF continues to build an exciting brand that maintains a deep connection to our community."
Amanda Ansorge is a graphic designer and the Art Director for Red Hot Magazine, a bimonthly about Red Bank and its surrounding area. She has branded and designed publications for numerous New Jersey destinations, including Asbury Park, Englewood, and the Ironbound District in Newark. Amanda is a graduate of Brown University, and pursued graduate studies in industrial design at Pratt Institute. A New Jersey native, Amanda lives in Montclair with her husband and two sons.
"I'm so honored to have my design represent the Montclair Film Festival," Ansorge said.
About MFF
The Montclair Film Festival, Inc. (MFF), a non-profit, tax-exempt 501(c)(3) organization, nurtures and showcases the talents of filmmakers from around the region and world. MFF unites, empowers, educates and celebrates our region's diverse cultural heritage and robust artistic community by presenting an annual spring festival and a growing assortment of engaging programs and events all year long. The fourth annual spring festival will take place from May 1 through 10, 2015. MFF 2015 is made possible through generous support from Investors Bank, Audi, HackensackUMC Mountainside, Chubb, Coldwell Banker Residential Brokerage, Horizon Foundation for New Jersey, and the New Jersey State Counil on the Arts, among others. For information about MFF, visit www.montclairfilm.org.
For more information, please contact FRANK PR: Phone: 646-861-0843
Lina Plath, lina@frankpublicity.com
Clare Anne Darragh, clareanne@frankpublicity.com