Thursday, May 7th at 8 pm
The Wellmont Theater
5 Seymour Street, Montclair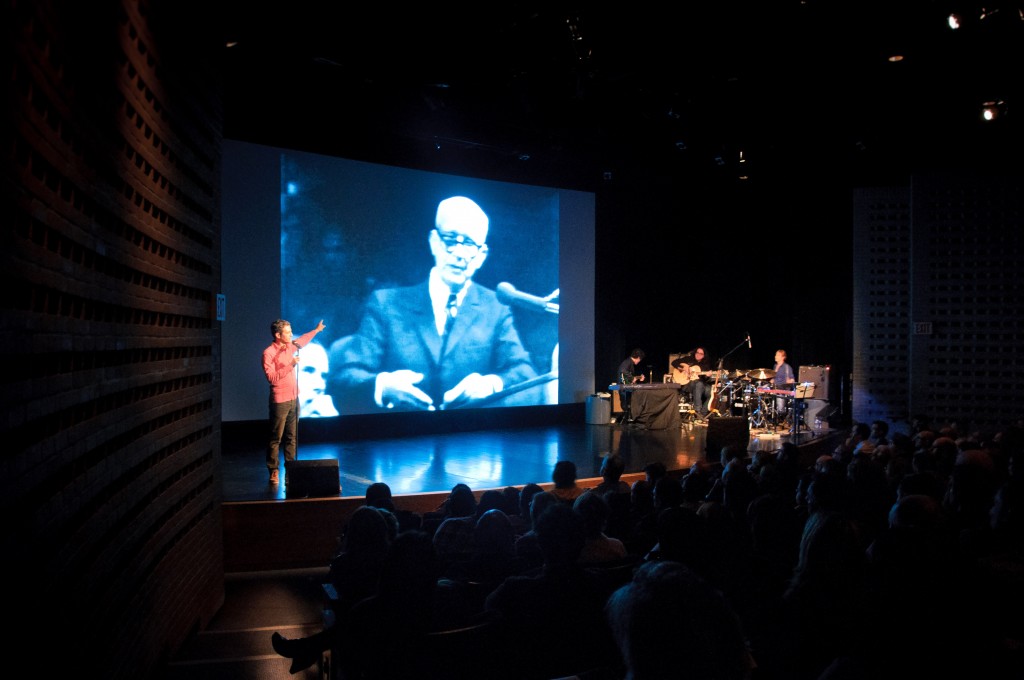 THE LOVE SONG OF R. BUCKMINSTER FULLER is a "live documentary" by Academy Award-nominated director Sam Green (THE WEATHER UNDERGROUND) featuring a live score by the legendary indie rock band Yo La Tengo.
THE LOVE SONG OF R. BUCKMINSTER FULLER traces the career of twentieth-century futurist, architect, engineer, inventor, and author R. Buckminster Fuller (1895–1983). An early proponent of environmental stewardship, Fuller spoke persuasively about contemporary design and architecture's ability to tackle issues of sustainability and conservation, and to stimulate radical societal change. This performance will feature Green narrating the film in person and cuing images from a laptop while Yo La Tengo perform their original score. The work features a unique combination of film clips and live music, as Green's in person cinematic narration draws inspiration equally from old travelogues, the Benshi tradition, and TED talks.
About Yo La Tengo 
Yo La Tengo is a critically acclaimed indie rock band from Hoboken, New Jersey. They've recorded twelve studio albums, written soundtracks to the films JUNEBUG, SHORTBUS, and OLD JOY and provided a score for the surrealist aquatic films of Jean Painlevé. Their most recent album FADE was released in January 2013 on Matador Records.
About Sam Green
Sam Green is a New York City-based documentary filmmaker. His film THE WEATHER UNDERGROUND was nominated for an Academy Award in 2004, broadcast nationally on PBS, and included in the Whitney Biennial. Green received his master's degree in journalism from the University of California, Berkeley, where he studied documentary with acclaimed filmmaker Marlon Riggs. He has received grants from the Creative Capital, Rockefeller and Guggenheim Foundations, as well as the National Endowment for the Arts.