As Christmas rolls around, again, the Christmas tree stands begin to appear in vacant lots and sidewalks with an array of firs or pines for sale. For many, the holiday brings to mind a time of celebration, but Christmas is also a commercial enterprise with materials to buy and jobs to occupy. Noel (Kentucker Audley) has one of those holiday-specific jobs, working the night shift for a Christmas tree stand in Brooklyn, New York. His days are full of the expected tedium that routine provides, but as depicted in Christmas, Again, there's an authenticity to his experience that allows the character to feel very real.
That authenticity is largely supplied by Writer/Director Charles Poekel, a Summit, New Jersey native who is making his feature-length debut with this film. Poekel actually opened his own Christmas tree stand where he worked for several years in order to help himself make Christmas, Again. At the post-screening Q&A following his film's Montclair Film Festival debut, Poekel explained, "I was interviewing people that were selling trees and I didn't feel that I was quite getting the full experience."
Operating his own Christmas tree stand provided the film with a location to shoot on, but Poekel was hoping for another added benefit. "I thought we could also use some of the profits from selling the trees to fund the film," he added to laughs from the audience. However, the heavy utilization of several location-specific elements adds details to a story about a forlorn guy getting over a recent break-up.
At his tree stand, Noel works alongside a young couple whose relationship reminds him of the one he had with a fellow employee a year ago. Noel sleeps at the lot as well, in a small trailer camped next to the trees. Each day he walks a myriad of customers through the stand's assortment of trees, a monotonous task that he performs without objection rain or shine. Only rarely does Noel get to leave the space where he both works and sleeps, sometimes to make a tree delivery, and occasionally to swim at the YMCA.
The mundane nature this job gets interrupted by Lydia (Hannah Gross), whom Noel finds unconscious on a park bench. Noel brings her back to his trailer, but she vanishes in the morning. Unhappy about not thanking Noel for his help, Lydia returns a few days later and the two reserved people reluctantly begin to bond with one another.
Poekel's film develops into a small, thoughtful character study that sacrifices a more elaborate plot in sake of establishing a contemplative tone. Shot over a period of 15 days around Christmas time in Greenpoint, Brooklyn (where Poekel currently resides), the movie has a wonderfully textured 16mm look that draws you into its world. On the film's ending, Poekel commented, "One thing that was important to us is that we wanted the ending to feel open ended." The minimalism ultimately brings this movie to an ambiguous conclusion, but it's an ending that feels appropriate to this particular story.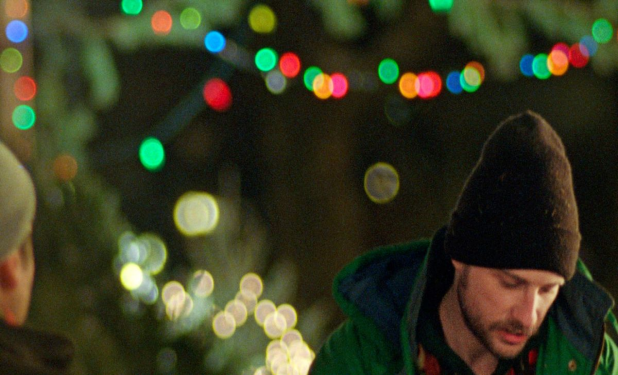 Christmas, Again plays the Montclair Film Festival once again on Tuesday, May 5th at 9:00pm at the Clairidge Cinema, and is pre-empted by the short film George And The Vacuum, a delightfully introspective black & white comedy co-starring Fred Armisen and Montclair native Sophia Takal.
Read excerpts from Christmas, Again filmmaker Charles Poekel's MFF Q&A below:
Could you talk about the visual style that you employed?
Some of you might know this but films are shot less and less on film these days, and more of them are shot digitally. We decided to shoot on film primarily because we did a couple camera tests and just thought it looked best in film. Our cinematographer Sean Williams shoots a lot on film and is very comfortable with it. We thought all the Christmas lights, the textures, the trees and the environment looked best on film.
Were you actually selling Christmas trees?
Yeah, even while we were shooting. We would often stop a take for a customer. I think by the time we were finished, we had a small crew, but everyone in the crew and everyone in the cast had sold a tree.
Were any of the customers in the film real customers?
Some of them are. Mostly people you don't actually hear from but a couple of them got lines, too. The very first guy in the beginning who buys a reef and says, "How big is a small?" he was a guy we found on the corner in a bar. Our casting director specializes in street casting and non-professional actors. We wanted to have almost a documentary feel.
Could you talk a bit about the music in the film? Some of it was happy but with this "bent" feeling.
None of it is original music. It's all licensed. Some from 1903 all the way until a couple years ago. The pieces in the pool and while he's driving are theremin pieces from a famous thereminist name Clara Rockmore. We thought it added a really good melancholic feel.
Where did you shoot the film?
We shot it in Greenpoint, Brooklyn. It's a very Polish neighborhood so we tried to get a little bit of that in some of the characters.
The tree delivery scenes seem structured to be very different from one another, what was the thinking behind that?
For people who are selling Christmas trees, most of them are pretty much locked to this specific location, this super insular place for almost the whole month. I remember the first time I had to deliver trees it was very surreal.
You're going from this one place that you know where people come into it, and now you're in someone's home and seeing where the tree is going to be, how it gets set up, how it fits into their home. It's a whole different space and environment. For it, it was just so jarring that I just thought that this could be a great opportunity to take my character and take him away from this thing.
The park was another example of that, "How can we get him out of that corner?" The first delivery hits too hard at home. It's too perfect and it's too much for him. Then the three at the end, I just think they're so diverse, I almost feel like he can't be affected by them because there are too many different things.
Your shooting style implements a lot of very tight shots, is that specific to this movie?
We knew we wanted the film to be claustrophobic and very insular because of the space. Also, with the trailer, you just don't have much room to work with. So we were using the widest lenses we could use before it started to fish eye, which is when the image starts to bend and look like a '90s music video.
The other half is that our cinematographer hates wide shots. I would have to pull teeth to be like, "Come on Sean, we've got to do a wide shot." "I don't know why we need it." "Please, do it for me."
We did want it to feel claustrophobic, we did want a lot of close-ups.
Where did you find Kentucker?
I first saw Kentucker in a film called Bad Fever that came out four-five years ago and premiered at South By Southwest. Then I've kind of seen a lot of things with him since. He was in a fantastic 'lovers on the lamb' film called Sun Don't Shine that came out a couple years ago.
I think I met him at a different festival. When you come to film festivals you meet a lot of different filmmakers and you see a lot of great films. When we were casting the casting director recommended him and he liked the script.
What are you working on now?
Right now my wife and I are working on a screenplay. We're about two drafts in. A group of best friends who [find out] that one of their best friends has killed someone. So it's about what it's like to learn that someone you've been around your
whole life is actually someone who would do that. That's as much as I can say about it. It's not based on real life.
Written by MFF Blogger Zachary Shevich