Colbert Thanks Mavis For Being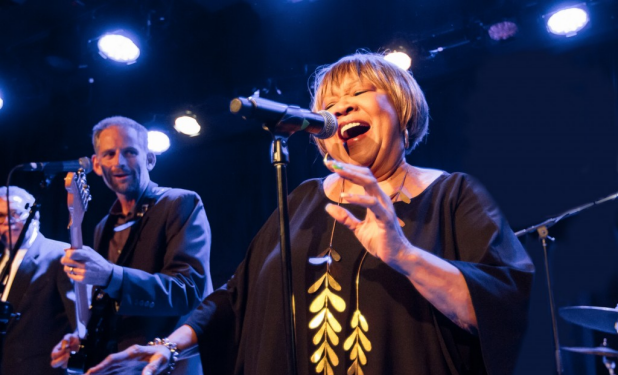 Mavis Staples often starts out a performance with a whisper to bandmate Rick Holstrom, "I don't have much tonight."
But a few songs later she'll turn around to him and exclaim, "I got it back!"
Staples didn't need to get it back on Friday at the Wellmont; she brought it.
After cheering her performances on screen during the documentary, Mavis!, the MFF audience gave her a minute long standing ovation. She and Colbert then jumped right into a lively, crowd-pleasing banter.
Mavis!
Through interviews and performances, Director Jessica Edwards created a tribute to the master of soul, R&B, jazz, gospel, rock and blues. Mavis! tells the story of the Staples' tightly woven family and their progression singing gospel for congregations and then follows their evolution through multiple generations of music. On screen, music industry heavyweights such as Bob Dylan and Bonnie Raitt praise the Staples' influence and Mavis' transformative voice.
And everybody loved 'Pops' Staples. Even Dr. Martin Luther King, Jr.
Mavis' father had experienced the brunt of segregation in his southern upbringing and on tour during the Civil Rights Movement, his family also endured it. After hearing King speak, Pops was inspired to write freedom songs and told his children, "I think if (King) can preach it, we can sing it."
Today, Mavis carries his inspirational spirit in her voice and his familial love in her heart, "Pops taught me that the family unit is the strongest unit in the world." These are not just words to her; older sister Yvonne always travels with her. Moreover, Mavis has expanded the definition of family to include her band and dear friends. She holds a similar sentiment for Wilco's Tweedy as he has become a close collaborator in her renewed solo career.
Thank You For Being.
Stephen Colbert warmly welcomed Mavis Staples into their conversation by simply thanking her "for being." Having worked together in the past, there was an easy affection between Staples and her "friend and brother." Over the hour, they fluidly transitioned from serious themes to cracking each other up to an impromptu duet of Fats Domino's "I'm Walking".
After a spout of laughter from the audience, Staples teased, "What's the matter with them?"
"They just love you, that's all. They've never seen anyone make me quiet for this long."
As few people can, Colbert broached topics with a mix of humor and reverence. He apologized when he brought out notecards for his questions, "I'm afraid I'll forget because I'm too enchanted."
Staples spoke about growing up with other musical greats like Sam Cooke and Curtis Mayfield in what they called Chicago's "Dirty Thirties" between 33rd and 35th Streets. Colbert followed up, "Can you do gospel and be bad? Were you bad for gospel people? Because you sure were sexy; was it okay to be sexy and do gospel?"
Even on a more serious subject, Colbert made Staples giggle. He asked her how she had once "accidentally integrated" a laundromat in Mississippi, "Did you do a load of colors and a load of whites at the same time? That's bold."
Staples laughed, "Col-bert!"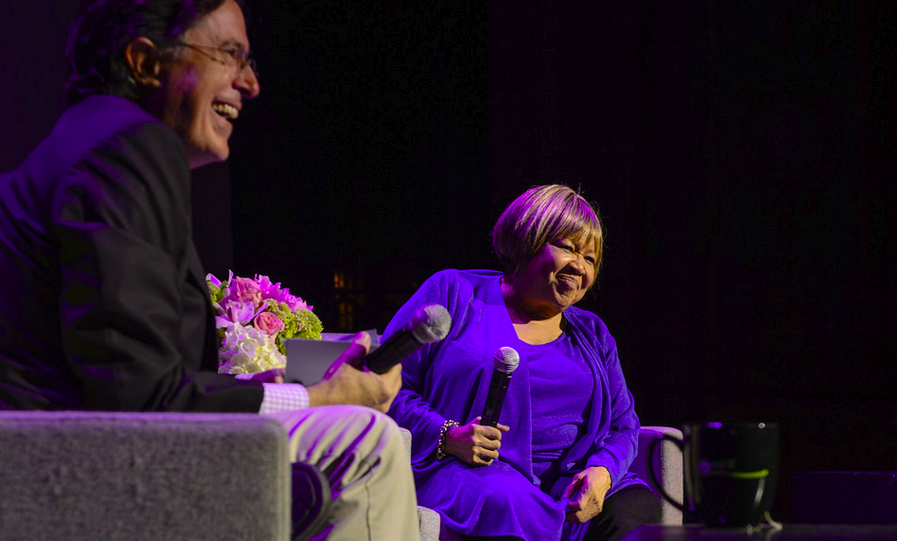 It's Still the '60s . . .
Colbert and Staples spoke more about her having to walk a "fine line" in the South during the Civil Rights Movement. He paraphrased her father's guidance to "not stir up any trouble," but to "not let anyone push you around."
At Colbert's prompting, Staples also reflected on their freedom song's contemporary relevance, "All the songs that I sing fit today . . . it's still the '60s as far as I'm concerned." Staples continued, "When we first started singing protest songs . . . we thought we could change the world. Man, we did pretty good, but not everybody got on board."
Goldilocks
From freedom songs and gospel to the blues and rock n' roll, Mavis Staples sings across genres without a day of formal training. She said that when she works with a new producer she always tells them, "if it's too high, bring it down; if it's too low bring it up and eventually it's right in there."
Colbert quipped, "That's the Goldilocks method of singing."
Perhaps Staples crosses genres so easily because she doesn't see a big difference between them. She demonstrated as the audience clapped along, "Jesus gave me water, Jesus gave me water," and then she switched it up, "My baby, he gave me water . . ."
But even Staples had once resisted going to clubs because her hero Sister Mahalia Jackson did not perform in them. As always, though, Pops had a way of changing her mind by giving her purpose; "Ok, Daddy, I'll take the church to the club."
In appreciation, Colbert responded, "You're taking the church to us."
View more fabulous pictures from the Colbert and Mavis Conversation!
Written by MFF Blogger Kimberly Cecchini