Tribute to Richard Curtis
The MFF
Announces Tribute To Richard Curtis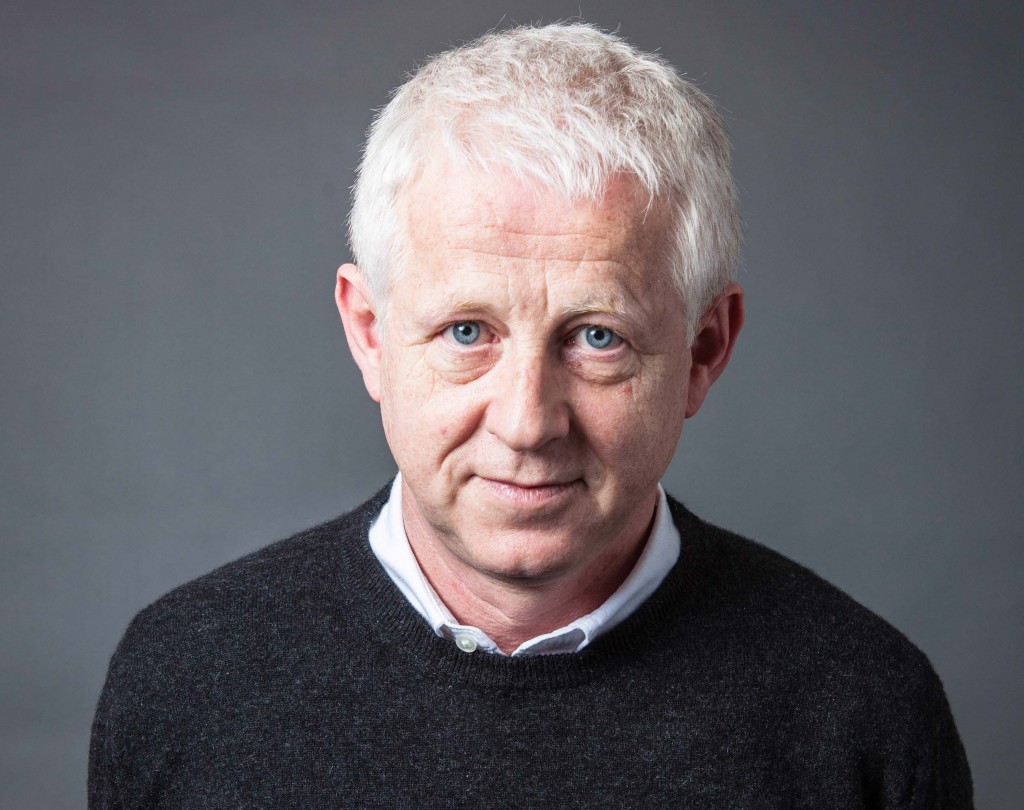 In the first major announcement of the festival season, the MFF is proud to announce that writer, director, and producer Richard Curtis will receive the festival's inaugural Filmmaker Tribute on Saturday, April 30, 2016, during the 5th annual Montclair Film Festival.
The daylong celebration will feature a screening of Mr. Curtis' Love Actually with Mr. Curtis providing a live director's commentary with stories, secrets, and surprises about the making of this beloved film. Later in the day, Stephen Colbert, host of The Late Show with Stephen Colbert, will moderate a wide-ranging conversation with Mr. Curtis on stage at The Montclair Kimberley Academy Upper School. The MFF will also screen a selection of Mr. Curtis' works throughout the festival.
Richard Curtis is a screenwriter and director, responsible for films such as Four Weddings and a Funeral, Notting Hill, Bridget Jones' Diary, Mr. Bean, Love Actually, The Boat That Rocked, About Time and most recently Trash and Esio Trot. In the other half of Richard's life he is the Co-Founder and Vice-Chair of Comic Relief, which he started after visiting Ethiopia during the 1985 famine. He has co-produced the 15 live nights for the BBC since 1988 and the charity has now made over £1 Billion for projects in Africa and the UK during that time. Last year, Richard took Red Nose Day to the United States with NBC and raised $22 million.
BAFTA New York, Universal Pictures and Working Title Films will be co-presenting the day's festivities, with a portion of the proceeds from each event benefitting Red Nose Day, which seeks to use the power of entertainment to create lasting change by tackling the root causes of poverty and social injustice.
"I'm so delighted to be part of the Festival," said Mr. Curtis, "and excited to have a chance to be on stage with Stephen Colbert – and looking forward to undermining Love Actually with my scurrilous memories and revelations about the low quality of the film-making, and quite how many members of my own family are in it, including my mother-in-law."
"The Montclair Film Festival is thrilled to honor Richard Curtis at this year's festival," said MFF Executive Director Tom Hall. "Mr. Curtis' wonderfully romantic, comic films showcase a deep empathy that is only exceeded by his personal warmth and generosity. We look forward to a fantastic tribute on April 30."
BAFTA New York chairman and MFF Board Member Luke Parker Bowles, who will produce the event, noted, "The infamous 'special relationship' between the United States and the United Kingdom has born fruit in many diverse and exciting forms, not least in the shared love of each other's comedy styles in film and television. In Richard Curtis, we have the opportunity to celebrate and discuss this mutual respect with a man who has created some of the seminal works of comedy over the past forty years and continues to do so. We are thrilled to celebrate him, his life, his work and his philanthropy at this year's festival."
"While Richard is undoubtedly one of the finest filmmakers of this generation, more importantly, he is a lifelong humanitarian," said Donna Langley, Chairman, Universal Pictures. "Love Actually is one of the most beloved movies in the studio's canon, and we are so honored to be a part of this celebration of his work.  We thank him for both what he has done behind the camera and for his tireless championing of global social justice."
Tickets for MFF members go on sale Tuesday, April 5, with public tickets on sale Friday, April 8, at 11:00 AM. To become a Member and support the MFF's year-round programs, CLICK HERE.
The full program for the 5th Annual Montclair Film Festival will be announced on Tuesday, April 5th.