FREE IN DEED: Blind Faith
A single working-class mom (Edwina Findley) turns to her faith in search of a desperate miracle in Jake Mahaffy's award-winning FREE IN DEED. Based on real events and set in the distinctive world of storefront churches, where the disenfranchised unite in search of refuge, FREE IN DEED depicts the desperate attempt by a lonely minister (David Harewood) to heal the mother's son (RaJay Chandler). With powerful performances and a nuanced observational approach, Mahaffy offers a humane look at community driven towards blind faith when all else fails.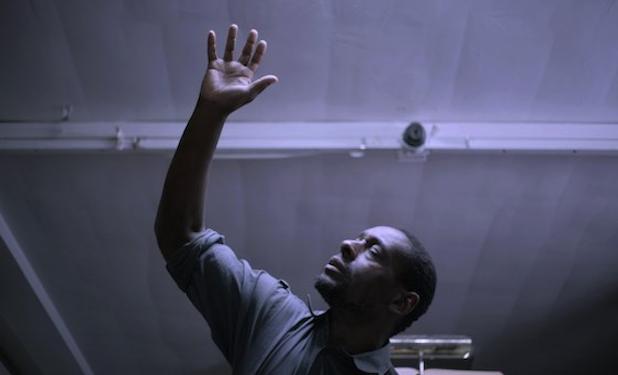 MFF was excited to interview the director of this engrossing and emotional drama, Jake Mahaffy.
How would you describe FREE IN DEED in your own words?
Jake: Set in the distinctive world of storefront churches, and based on actual events, FREE IN DEED depicts one man's attempts to perform a miracle. When a single mother brings her young boy to church for healing, this lonely pentecostal minister is forced to confront the seemingly incurable illness of the child and his own demons as well. The more he prays, the more things seem to spiral out of his control.
What drew you to this particular story?
Jake: Back when I used to look at the news I saw an article about a boy who died during a prayer service. I had grown up under similar circumstances, so the situation was not exotic to me. I understood how this might have happened because although I'm familiar with that church environment from childhood, I have not been religious as a man.
What originally sparked my interest was the dramatic irony of someone who wanted to do good, as the only person willing to act for the sake of this child, ending up involved in something tragic. The more he commits to changing circumstances out of his control, the worse the situation becomes.
FREE IN DEED is a film of intense emotionality. What was the process of sustaining and capturing that intensity on a day-to-day basis like?
Jake: It was a very short, fast, rough shoot. That circumstance led its own intensity and desperation to the process. Most of the passion comes from the church scenes where believers were genuinely caught up in the fervor of their faith. Those worship and healing scenes were not deliberately acted. On the first day of filming in the church, Prophetess Libra (who plays Mother) came out and said, "They think they're making a movie. But we came to have church in here!"
What was the casting process like for FREE IN DEED?
Jake: The two professional actors, David Harewood and Edwina Findley, were suggested by producer Mike Ryan. Their willingness to commit to a risky project like this means that they were the best human beings and best actors for these roles. It means that they understood the project in the right way. I am a determinist in that I believe that people who should not be involved in a project will find a way to stay away. And those who must be involved will find a way to contribute.
The rest of the roles were filled by local Mempheans. We went to churches and asked people to be involved. RaJay showed up to an open call in Memphis and I auditioned him in a car. He was immediately amazing and completely committed. He was the only option and the best option. They all did fantastic work.
Do you have one piece of advice for aspiring filmmakers?
Jake: There are so many different kinds of people who make films – polar opposites in terms of intentions, politics, interests, backgrounds – I couldn't generalize enough to say anything relevant. One of the most important things I've learned is not to make assumptions about anything. Assumptions involve secondhand knowledge or laziness and lead to clichés – not the best foundation for building any kind of unique, complex perspective on the world.
What do you hope MFF audiences will take away from your film?
Jake: An experience of empathy. Deep questions about how the events in the film first transpired and who or what is ultimately responsible.
What are you most looking forward to at MFF16?
Jake: Meeting with viewers. Film festivals are the only way to connect filmmakers with audiences. Festivals could serve a great purpose.
Learn more about FREE IN DEED by viewing the trailer below and visiting the film's web site, www.freeindeedfilm.com.
Director Jake Mahaffy and Producers Mike Bowes and Mike S. Ryan will be in person at the showing below.
Showings:
Clairidge Cinema 2, Sat, May 7, 4:30 PM, Buy Tickets
Clairidge Cinema 1, Sun, May 8, 2:00 PM, Buy Tickets
Interview by MFF blogger Hermes Almeida, Jr.