In this surprising, heartfelt coming-of-age story, Neil (Michael Johnson) is a lonely teenage boy who spends his days avoiding eye contact and his nights crafting erotic fan fiction about his favorite science fiction hero, Vanguard (Tishuan Scott). But when Neil learns that his schoolmate Julia (Hannah Marks) shares his passion for unorthodox storytelling, the pair's ambition to reach Comic Con and meet their fellow writers brings them together in unexpected ways. Clay Liford's SLASH is a winning tale of self-discovery, finding your passion, and learning to love your inner nerd with everything you've got.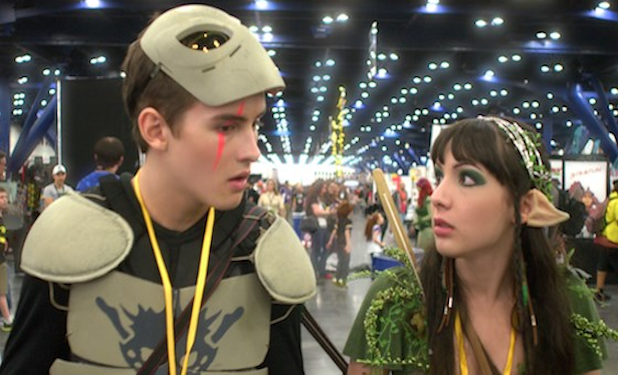 Director Clay Liford gives us some fun details about himself and the creative process behind the making of SLASH.
How do you describe your film in your own words?
Clay: SLASH is the story of a teenage boy who, in trying to figure out his own sexual identity, turns to the world of erotic internet fan fiction.
What made you want to write this particular story?
Clay: I've never seen a coming-of-age film truly immersed in the internet. It's such a huge part of modern life, and I wanted to reflect that. Plus, kids like the ones portrayed in the film, questioning kids, don't really have a movie of their own. I wanted to provide that. Being a teenager can be really tough! Maybe this movie can make it 2% easier for a few kids.
Growing up, were you a comic book fan? How do you relate to the main character?
Clay: I was a comic convention kid. My dad would drop me off at the local con with twenty bucks in my pocket and I'd go adventure seeking. It was sort of the first thing I really did without adult guidance. I think Neil, my protagonist, is sort of without a net in the same manner. We share a lot of similar qualities.
What was the casting process like?
Clay: We had a terrific casting director, JC Cantu. We found our leads through him. It was really a night and day experience based on the ramshackle way I usually cast my pictures. Finding Michael Johnston and Hannah Marks was a godsend. They really are the heart and soul of the movie. If they didn't work, the whole thing would have crumbled to dust. Thankfully, they worked. And much better than I ever could have hoped.
What advice would you give to someone who wanted to have a life creating film?
Clay: Learn how to do it all. A jack of all trades is NOT a master of none. That is horsecrap. The self-sufficient filmmaker doesn't need anyone to give them permission to make their movies. They just do it. Ironically, the better you get at being self-sufficient, the more people will want to work with you. So now, I pretty much have a full crew and I just get to direct. I love irony.
What is your favorite movie genre? Why?
Clay: I love genre films of all sorts. Horror, scifi, comedy. I like a bit of flavor-text. Something other than just DRAMA. But I do love historical dramas. But see, again, that's a flavor!
Are there any particular movies you find influential towards your work?
Clay: I'm a huge fan of guys like Hal Ashby and, more recently, Todd Solondz. There's something not necessarily dark, but subtle about the comedy in their movies. It's stuff where one person can see it as a drama, and the person sitting next to them is laughing their ass off.
Have you always wanted to be a director? How did you get started?
Clay: This is a lame answer, but I've always wanted to tell stories. I tried my hand at (bad) playwriting. I sort of came to film a tad later than a lot of my peers. Oh, I did really want to be a stop-motion animator like Ray Harryhausen when I was a kid!
I went to UT Texas for film studies. I ended up shooting anything and everything I could while I was enrolled there and had access to equipment. By the time I graduated, I actually served as the Director of Photography on two feature length films. After that, it was off to the races. And I pretty much never had a "normal" job. Again, that jack of all trades thing.
What do you think MFF audiences will take away from your film?
Clay: Hopefully, they'll have a few laughs and learn about a type of creative outlet (slash fiction) they either have never heard about before, or only heard about derisively. I don't think anyone can watch this movie and not feel empathy with our characters. That's not me. That's Michael and Hannah.
What are you most looking forward to at MFF16?
Clay: I love meeting filmmakers I haven't connected with before. I love seeing films that are not on my radar. Fresh discoveries!
For more info on SLASH, check out the trailer below, and visit the film's website, Facebook, and Twitter.
Director Clay Liford will be in person at the showings below.
Showings:
Bellevue Theater 2, Sat, May 7, 4:45 PM, Buy Tickets
Bellevue Theater 1, Sun, May 8, 2:15 PM, Buy Tickets
Interview by MFF blogger Bridget Cunningham