JOE'S VIOLIN: The Power of Music
In her beautifully crafted short documentary JOE'S VIOLIN, Kahane Cooperman tells the story of Joseph Feingold, a 91-year-old Polish Holocaust survivor who donates his violin of 70 years to a local instrument drive. When the violin lands in the hands of a 12-year-old schoolgirl from the nation's poorest congressional district, their lives intersect, changing both of them forever.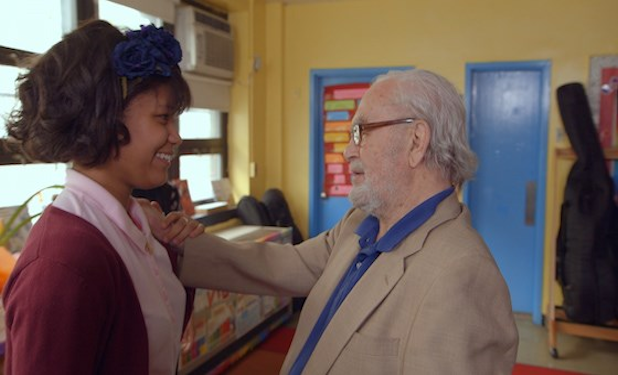 We asked Kahane and producer Raphaela Neihausen, both Montclair locals, about the creative process behind their touching documentary short and what it means to them personally and professionally.
How do you personally describe JOE'S VIOLIN and what made you want to tell this particular story?
Kahane: A 91-year-old Holocaust survivor, Joe Feingold, donates his violin to a local instrument drive, changing the life of a 12-year-old schoolgirl from the south Bronx, and unexpectedly his own. That's our in-a-nutshell description. But at its heart, JOE'S VIOLIN is a story of the immense power of music to transcend age, history and cultural backgrounds and its ability to connect the most unlikely of people.
I had been wanting to make another film for a long time. I got the idea for JOE'S VIOLIN when I heard a promo on my car radio for WQXR's instrument drive. I was driven to tell this story by pure emotion and a gut instinct that there could be something truly beautiful in the idea of two strangers sharing one musical instrument.
Raphaela: I've always been fascinated with stories of survival. As the granddaughter of Holocaust survivors who immigrated from Eastern Europe, Joe's story really resonated with me. My family similarly immigrated to NYC and music was (and remains) a key to our past, especially as my mother is a singer who still sings the melodies her grandparents taught her.
This film combined all my interests: pre-war Eastern Europe, Jewish traditions, immigration to America, the power of music to evoke the past and connect strangers, the magical city of New York where anything is possible, how small acts of generosity can fundamentally change the world. When Kahane told me about the film, I just had to work on it!
What was your relationship like with the subjects of your documentary?
Kahane: Since we began filming very early in the process, all of us experienced this story together, as it unfolded. When I first started, WQXR (the radio station who ran the instrument drive) had just received Joe's violin, which was one of 3,000 instruments they received. I was able to follow the process as The Mr. Holland's Opus Foundation (MHOF) selected The Bronx Global Learning Institute for Girls (BGLIG) and then the teachers and principal at BGLIG selected student Brianna Perez as the recipient of Joe's violin. Our whole filmmaking team became close not just with Joe and Brianna but also with their families, the teachers, school administrators and folks at WQXR and MHOF. Let's just say it's been a bit of a love fest – we have all shared this moving experience and that is a real catalyst for bonding.
Raphaela: We were lucky to be following such wonderful people. Brianna was wise beyond her 13 years, thoroughly charming and absolutely lovely. Joe was soulful, genuine and incredibly sharp with his recollections. Brianna's music teacher Kokoe Tanaka-Suwan was all heart – hearing her speak about her students was inspiring. Pretty much everyone we were fortunate enough to film or work with was really great.
What is your filmmaking background and do you have one piece of advice for aspiring filmmakers?
Kahane: I've always loved the kind of storytelling that film allows. I went to film school at Columbia, worked for the documentarian Albert Maysles for several years and have made three of my own films – all documentaries. I have also enjoyed a long and wonderful career in television production but nothing ever replaced the joy I get from filmmaking.
It's not an easy road and it takes a long time, so make a film about something you are passionate about. That passion will power you through the process and show in the final product.
Raphaela: Previously, I produced a feature documentary called Miss GULAG (www.MissGULAG.com). I made it with two dear friends – all three of us were first time filmmakers and operating purely on intuition and common sense. Despite it being our first feature, we wouldn't let ourselves be intimidated. We pushed through and received grants from the the Ford Foundation and Sundance Doc Fund, had our world premiere at the Berlin Film Festival and then went on to have the film be broadcast around the world. My advice to aspiring filmmakers: choose a topic you love because it will be tough! Your dedication to the subject matter will get you through the hurdles. More than you choosing a story, it has to feel like the story has chosen you!
What do you hope MFF audiences will take away from your film?
Kahane: I hope they are as moved by the story as I have been – that they see how one small act can have a huge impact.
Raphaela: I hope they'll have two takeaways:
1) Small simple actions can have tremendous life-changing impacts.  Something that may seem insignificant to you, can actually change someone's life forever.
2) Music is the world's universal language.  It transcends time, culture and age to unite strangers; keeps memories alive across generations and provides hope in times of darkness.
What does it mean to you to be screening your film in Montclair where you live with your families?
Kahane: All screenings with an audience are an exhilarating experience but showing in my hometown has very special significance for me. Many of the people who worked on this film live in Montclair including my stellar producer Raphaela Neihausen and our Director of Photography Bob Richman – we also had other Montclairions adding their talents to the mix, including Eric Baker, who contributed to our graphic design, and Jim Black, who helped us secure music rights. Also, this film was fully funded through crowdsourcing and a large number of Montclair friends and neighbors contributed to our kickstarter campaign. This community truly helped make this film – so I think the screening at MFF will be a true community experience.
Raphaela: Screening JOE'S VIOLIN at MFF is incredibly moving for me. My husband and I came out to Montclair in 2012 to run the Montclair Film Festival and loved the town so much, that we decided to make this town our home and raise our son here. To now be attending the festival as a filmmaker is an absolute treat. I am so proud of how the festival has grown over the past few years and look forward to screening this very special film for a community of dear friends and neighbors.
Click here to view the film trailer.
JOE'S VIOLIN will be presented at the Wellmont Theater on Saturday, April 30, 11 AM. This special screening will feature a musical performance and extended Q&A with the filmmakers and subjects. BUY TICKETS FOR JOE'S VIOLIN NOW!