NEWTOWN: Pain and Perseverance
Filmed over the course of nearly three years, Kim Snyder's NEWTOWN is the story of the aftermath of the deadliest mass shooting of schoolchildren in American history. The film details the experience of parents, children, and educators whose community was forever transformed and fractured, driving them toward an unforeseen sense of purpose. The resilience of the film's subjects provides hope for the possibility of substantive change. At a time when mass shootings happen on an almost daily basis, NEWTOWN eliminates the noise and cynicism of the national conversation to focus on the power of human perseverance in the face of unfathomable tragedy.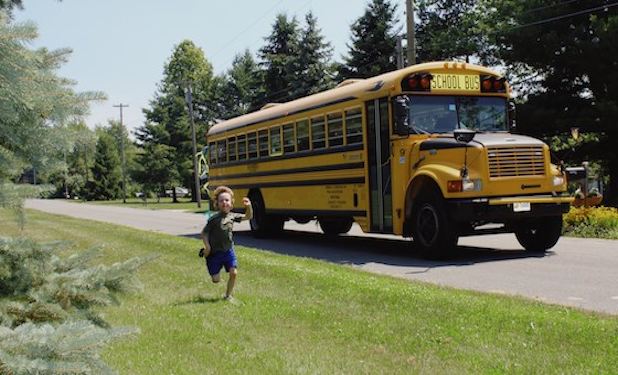 Montclair Film Festival 2016 interviewed Director Kim A. Snyder about her heart-rending, yet inspirational film.
How do you describe NEWTOWN in your own words?
Kim: NEWTOWN is a story of collective grief, human connection and community resilience. It is an intimate portrait of aftermath that bears witness to a horrific watershed event in American history – one that challenges us to question our national values and experience the fallout of gun violence long after the news cycle has come and gone.
What made you want to tell this particular story?
Kim: I was drawn to the profound effects of collective trauma and the need for many in Newtown to be heard on their own terms in an effort to make meaning out of the unthinkable. I wanted to pierce through a growing desensitization to these escalating incidents of mass gun violence through creating an emotional experience that humanizes the issue in a universal way.
How difficult was it for the people of Newtown to talk about the incident?
Kim: Of course difficult, and yet for those who participated, extremely cathartic and seemingly necessary in their process of grieving and healing. If they were not utterly compelled to bear witness to what they experienced that day, we did not go near it.
Did your vision of the film change, or evolve, over the three years it took to film? Did you end up where you thought you would?
Kim: Yes, it was like peeling an onion. The vision changed only in that in that first year, I did not feel comfortable penetrating the privacy of those most affected. My first connections were with the interfaith community, which informed an intimacy and framing that was at once philosophic, existential, spiritual to some extent, and lent a holistic approach to a community wrestling with the darkest of journeys. Fr. Bob, the priest who buried eight of the twenty children, was one who was among those severely affected in terms of trauma.
As I organically developed relationships with others through careful trust building, I began to develop a story of a town through a number of prisms including that of parents of loss, educators, first responders, neighbors, youth… faces that render a portrait of any town and one that would redefine victim and explore the profound effects of survivor guilt and the resilience required to repair the social fabric of the entire community in the wake of the tragedy. In this latter sense, the vision was in fact what I'd strived for at the outset.
On a personal level, what did you learn from the people in your film?
Kim: Wow, much more than can be rendered here… the dignity and strength that I have been privileged and humbled to experience and observe has been life changing. To put this into words is difficult to avoid cliche, but among some of the things that have given me deep thought in the course of making this film:
As community, we are indeed a collective and we cannot get through these things without that glue – to work diligently in one's life to fortify those foundations of family and community.
That we are capable of unimaginable strength and dignity in the uncertainty of fate and as bereaved father David Wheeler describes, "the chaos of life."
That creating a sense of purpose in the midst of pain and adversity is what defines human resilience – and the mission and unfettered determination, often fueled by anger, to do so can move mountains. In the midst of the Newtown story, each day one is lent the perspective that arises from "there but for the grace of G-d go I."
That despite the natural desire to strive for "closure" for those things that bring us trauma, healing is more about integrating those experiences into the new person you must become.
That we cannot simply accept the fallout of gun violence in this country. We are all Newtown.
As a seasoned documentarian, do you have one piece of advice for aspiring filmmakers?
Kim: To learn to flex the muscles of uncertainty and listen to instinct. To not become attached to anything too closely – not to your initial convictions of what you scripted, your temp music, etc… and try to marry rich!
What do you hope MFF audiences will take away from your film?
Kim: A profoundly emotional but rewarding journey to experience among community.  Perspective, anger, and uplift from a community that offers profound truth and life perspective. Most importantly, the conviction to participate in affecting change.
What are you most looking forward to at MFF16?
Kim: Seeing my friend and talented programmer Tom Hall and experiencing his line-up of filmmakers and work that is always such an intelligent and inspired mix. The Q&As.
What does it mean to you to be screening your film close to home?
Kim: After 3 years, I can experience the film with some of my community for the first time and in the tri-state area where there has been diligent focus on issues of gun violence. The attendance of some close and dear to me means the world to me – my college roommate! Because of proximity, we will also have the opportunity for some Newtown friends/film subjects who will participate in Q&A for the first time.
For more information about NEWTOWN and Director Kim Snyder, visit the film's website, Facebook, and Twitter.
Director Kim A. Snyder and Producer Maria Cuomo Cole will be in person at the following screenings:
Clairidge Cinema 2, Sat, Apr 30 3:30 PM, Buy Tickets
Clairidge Cinema 1, Sun, May 1 7:00 PM, Buy Tickets
Interview by MFF blogger Michael Pilla.