THE SEER: Beauty in Rural Life
The family farm, once the essential source of food production in this country, has all but disappeared from the national landscape, creating an irreplaceable cultural void in the social fabric of American life. The award-winning writer and teacher Wendell Berry, heir to a small Kentucky farm, has created a body of work dedicated to preserving the beauty of life and labor in quiet, rural places. In her gorgeous, contemplative examination of Berry's ideas, THE SEER: A PORTRAIT OF WENDELL BERRY, director Laura Dunn traces the distance between the reality of modern, corporate farming and the remnants of a vanishing way of life.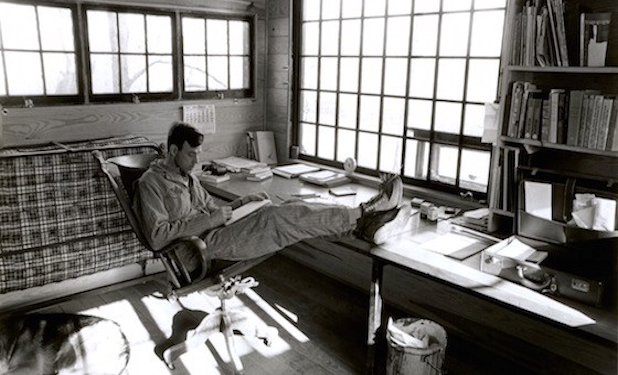 Montclair Film Festival had the opportunity to interview director Laura Dunn about her engrossing and affective documentary.
How do you describe THE SEER in your own words?
Laura: I think of THE SEER as a portrait of my favorite writer, Wendell Berry. Its composition, as it reflects the nature of Berry, is necessarily contrarian in that the film is much less about how the world sees Wendell than it is about how Wendell sees the world. Rootedness to place is a key theme that weaves throughout all of Berry's work – fiction, non-fiction and poetry – and so THE SEER ethnographically documents Wendell's home of rural Henry County, Kentucky. Family farmers, young and old, reflect both a love for land and the complex economic/idealogical struggle to stay there. Hundreds of intimate and never-before-seen photographs of Wendell and his family through the years, archival footage documenting the rise of industrial agriculture, excerpts from various Berry writings and a series of original wood-engravings poetically frame the landscapes and farmers' stories, ultimately asking the viewer to wonder how to more deeply engage the quiet and the old.
What made you want to tell this particular story?
Laura: I've known Wendell Berry's work since high school. But it was at my EP Terrence Malick's urging, when working with him on my first feature, THE UNFORESEEN, that I revisited Berry. I ended up choosing a poem of his to use in that film, and he so graciously allowed me to record him reading it. We interleaved that poetry reading throughout that film. And when we toured the film to festivals and beyond around the world, I was surprised to learn how few people had heard of Berry. So I wanted to make a film that would point folks to his books.
What led you to the works of Wendell Berry, and to infuse his poetry, prose and voice throughout the film?
Laura: Wendell has long been one of my very favorite writers. He conjures up a world in which I'd like to live – real, unvarnished, imperfect, organic and beautiful. I've been making social issues documentaries for a good long while now, and if you do the math, despair is a natural conclusion. However, Wendell's writing soberly points at the painful realities around us while, through an artful lens, inspiring us to hope, perhaps against all odds, for something better. So since THE SEER is, in effect, a portrait of Wendell, his literary voice frames the larger narrative.
Why did you decide to segment the film into chapters?
Laura: I do not have a script before we shoot. I immerse myself in the material – in this case, I read everything I could find that Wendell has written – and then step into that world and respond to what comes. We collected a lot of different stories in Henry County, Kentucky, across all four seasons. I had a lot of themes form Wendell's work playing out across these vignettes, both personal and visual. And, in the editing process, I like to try to find the natural seams in the collected material rather than impose an arbitrary structure. I do this for as long as possible. But inevitably, at some point, I have to work through the medium and impose some kind of narrative frame.  As I struggled with this in the editing room one night, I started looking through the many Wendell books on my shelf and realized that the way he organizes his books, with poetic chapter headings to group stories or essays thematically, could work with our film as well. I wanted the film, in a sense, to feel like a book.
Why did you include interviews within your film?
Laura: Interviews, for me, are the heart of a documentary.
What led to your decision to use archival footage within your film?
Laura: Wendell writes at length about his place, and the history is a key part of understanding where you are and where you are from. And since this film is, in effect, a portrait of Wendell, representing his past and his arc visually is key to rendering an intimacy to his story. I also used archival footage from the US Dept of Agriculture to document the beginnings of Wendell's thinking on culture and agriculture – his response to the trends of industrial agriculture as they took root in the 1970s.
What is your connection to agriculture and the farming industry?
Laura: My mother is a maize geneticist who has long been searching for the origin of corn. I grew up in greenhouses, experimental corn fields and university Botany and Biology departments. My grandparents owned a Camellia nursery, and my great-grandfather owned and ran the largest pecan orchard in the world at one time. My roots are all from the deep South, and there is a long line of horticultural people.
As a documentary filmmaker, do you have one piece of advice for aspiring filmmakers?
Laura: Begin.
What do you hope MFF audiences will take away from your film?
Laura: I want them to want to turn off or away from the screen and go outside for a walk. I want them to want to read more (especially Wendell Berry books). I want them to be inspired to slow down and spend more time with their children, teaching them to "look and see" all that is around us. The last thing I want them to be thinking about is the film-making… My hope is that the film would make them engage in their own home landscape.
Are you attending this year's Montclair Film Festival?
Laura: I wish! We have six young children at home, including a new baby, so travel right now is very hard for me personally. However, our cinematographer, Lee Daniel, will be attending Montclair and will be a fabulous representative of the film.
For more information about THE SEER, visit the film's website, Facebook, and Twitter.
Showings:
Clairidge Cinema 2, Sat, May 7 12:00 PM, Buy Tickets
Clairidge Cinema 2, Sun, May 8 12:30 PM, Buy Tickets
Interview by MFF blogger Tanya Manning-Yarde.