Celebrity Fundraiser Announced!
Wow, That Was Weird:  
A Post-Election Evening With Stephen Colbert and John Oliver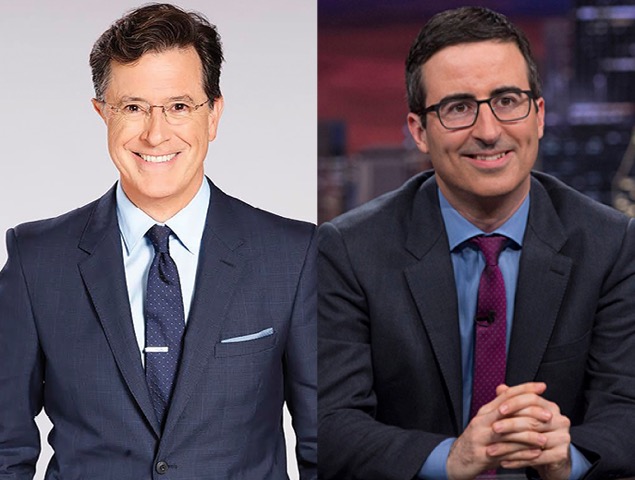 Saturday, November 19th, 8:00 PM
New Jersey Performing Arts Center 
We're proud to announce our 6th Annual Fundraiser, which promises to be an hilarious evening with Stephen Colbert and 2016 Emmy winner John Oliver, who will come together for an on-stage discussion of everything from their comic influences to the political season that will have concluded with the November election. Join us for a great night and support the MFF!
Tickets range from $69.50-$250.00 and are on sale today, September 19th beginning at 10:00 AM to Montclair Film Festival members only. 

Proceeds from this special evening will benefit our year-round cinema, film education, and community programs that reach over 30,000 patrons a year. To become a member and participate in the event pre-sale please visit 
www.montclairfilm.org
.
"At the end of a long, contentious political campaign, we could all use a good laugh," said Montclair Film Festival Executive Director Tom Hall. "We are so honored by the generosity of Stephen Colbert and John Oliver in making this once in a lifetime event happen, and we look forward to a fantastic night of fun."
ABOUT STEPHEN COLBERT
Stephen Colbert is best known as the host, writer and executive producer of "The Late Show with Stephen Colbert" on CBS. His long-running Emmy® and Peabody® Award-winning series "The Colbert Report" aired on Comedy Central from 2005 to 2014 and was nominated for 40 Emmys, winning a total of 6. The show was also twice honored with the prestigious Peabody® Award for Excellence in Broadcasting.
ABOUT JOHN OLIVER
John is the Peabody award-winning host of HBO's "Last Week Tonight with John Oliver," now in its third season. On occasional breaks from the show, John returns to his first love of stand-up, performing at sold-out venues worldwide. Previously, he was correspondent, guest host and Emmy award-winning writer on "The Daily Show with Jon Stewart." His other credits include a regular guest role on "Community" (NBC), and guest roles on "The Simpsons" and "Bob's Burgers."
ABOUT THE MONTCLAIR FILM FESTIVAL
The Montclair Film Festival, Inc. (MFF), a non-profit, tax-exempt 501(c)(3) organization, nurtures and showcases the talents of filmmakers from around the region and world. MFF unites, empowers, educates and celebrates our region's diverse cultural heritage and robust artistic community by presenting an annual spring festival and a growing assortment of engaging programs and events all year long. The sixth annual spring festival will take place from April 28 through May 7, 2017. We are renovating the MFF's new home in downtown Montclair to engage, educate and entertain through the power of visual storytelling. We plan to move into our new headquarters, the Investors Bank Film & Media Center, in spring 2017. This ADA-accessible and LEED certified space will feature an art house micro-cinema, education classrooms and administrative offices. MFF 2016 was made possible through generous support from Investors Bank, Audible, Horizon Foundation for New Jersey, HackensackUMC Mountainside, Ashenfelter, Slous, McDonough & Trevenen, LLP, Chubb, Coldwell Banker Residential Brokerage,The Kensington Montclair, and the NJ Department of State's, Division of Travel and Tourism, and New Jersey State Council on the Arts, among others. For information about MFF, visit www.montclairfilm.org.