MEMBERS: Log in to receive 10% MEMBERSHIP DISCOUNT.
(Please Note: Discount applies to $75 Family membership or higher)
ADULT MINI CAMP- 2019
Creative Workshops to Express your Unique Voice!
Who says camp is just for kids? From Improv, Screenwriting, and Editing to Online Cinematography — and more! Take a look at all of the options and register today to save your spot! Classes are for students 16+.

This course is designed to de-mystify what happens in the audition room and teach you how to give memorable on-camera auditions. Each student will have the chance to get in front of the camera and get real world training and feedback. In this class you'll learn how to work honestly and stand out from the pack in the world of TV. We'll look at various film and TV scenes and learn how to bring the script to life! At the end of the workshop, students will receive a copy of their in-class auditions. (Class Size 8-10)
Date: 3 Wednesdays (7/31, 8/7, 8/14)
Time: 7:00-9:30pm
Cost: $ 180/$162 Members
Instructor: TJ Mannix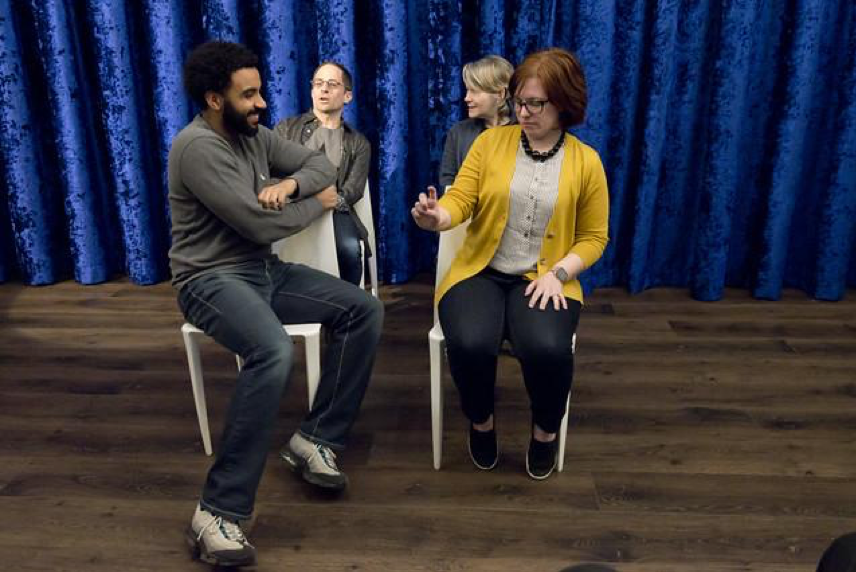 Two class sessions to introduce you to the fun of improvisation through exercises, games, and scenes. If you're interested in improv – and you've seen it on TV or live – and want to have some fun letting those crazy ideas out of your head, this mini-camp will give you a summer blast of creativity. (Class Size: 8-13)
Date: Tuesday July 16th and Wednesday July 17th
Time: 7:00-9:30pm
Cost: $100/$90 Members
Instructor: Gary Rudoren

From Radiolab to The Adventure Zone, podcasting has changed the face of our modern media landscape. This hands-on course will show you how to develop and produce your very own show in the MFF Storytelling Studio! Learn mic technique, mixing, post-production, and what makes for an interesting podcast from our guest instructor, Frank Hablawi of Non-Productive.com. (Class size 7 – 12)
Date: 4 Tuesdays: 7/9, 7/16, 7/23, 7/30
Time: 7:00pm-9:30pm
Cost: $230/$207 Members
Instructor: Frank Hablawi

Students will learn the fundamentals of screenwriting from format to techniques to story structure. Students will analyze the work of successfully produced screenplays to learn what it takes to write for film and television, as well as receive valuable feedback from their peers and their instructor as they create their own original short, feature, or television scripts! No previous screenwriting experience is required. (Class Size 8-10).
Dates: 6 Thursdays: 7/11,7/18,7/25,8/1,8/8, 8/15
Time: 7:30- 9:30pm
Cost: $225/$202 Members
Instructor: Evan Dickerson

Everyone has a unique story to tell, but not everyone has the training or the confidence to feel comfortable telling it.  Do you get nervous running a meeting at work? Do you wish you had more confidence speaking at events? Do you want to ensure your message is well received on the radio, a podcast, or at your next fundraiser? Then the Art of Storytelling is the perfect mini-camp for you! In this course, we will review the basics of storytelling and performance to ensure you become your best self in front of a crowd.Whether you want to work on confidence and poise in large groups or work on preparing your next professional storytelling performance with Montclair Film Story Slam's, this class will give you the tools you need to deliver high quality stories, performances, and content in whatever spaces you choose! (Class size: 8 – 12)
Date: 4 Mondays (7/8,7/15,7/22,7/29)
Time: 7:30-9:30pm
Cost: $140/$126 Members
Instructor: Duncan Miller

This hands-on beginner workshop will cover the interface, controls, and features of the industry-standard software Adobe Premiere Pro. Students will learn how to import files, combine video, still images, and music to tell their stories. (Class size: 7 – 11)
Date: August 13th and August 14th
Time: 7:00pm-9:30pm
Cost: $120/$108 Members
Instructor: Kyle De Milner

This summer, we're offering our first online cinematography course. This 4 week completely online program pairs you with a professional filmmaker for one-on-one mentorship and critical feedback on all of your uploaded projects. You'll watch exclusive video lessons and feature film assignments, create 4 hands on projects, and meet for live 1:1 video meetings with your instructor. Topics covered:
Shot Sizes & Their Functions
Light & Shadow
Composition & Depth
The Moving Camera
Lighting Basics
Composition Basics
Movement
Vision & Sensibility
and more.
No prior filmmaking experience is required.
Start Date: 7/29
Cost: $999 / Members $900
(Use discount code SMASHCUT for a 25% discount)



Class Full? Join the Waitlist
MEMBERS: Log in to receive 10% MEMBERSHIP DISCOUNT.
(Please Note: Discount applies to $75 Family membership or higher)