Fall Classes for Adults (16+)
Fall Classes for Adults (16+)
In-Person Classes
* Documentary Filmmaking: Get Real! * Editing with Premiere Pro *
* Voice Acting: Build Your Reel * Improv Sampler *
* Improv: Student Showcase * Intro to Photoshop * Storytelling *
Virtual Workshops
* Screenwriting I – Virtual * Screenwriters Lab – Virtual *
Hybrid Masterclass
* Creating Your Animated Series: From Concept to Greenlight *
New classes are added regularly, so keep checking back!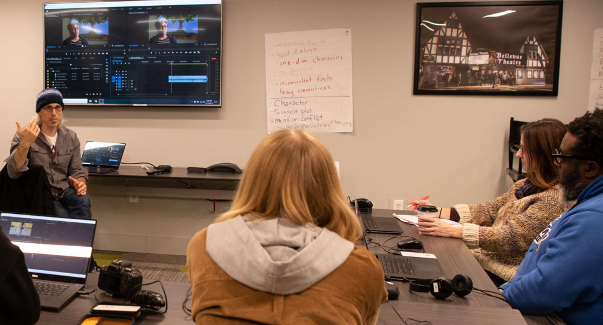 Documentary Filmmaking: Get Real!
Calling all truthseekers! Explore how documentary filmmaking can be a sacred and powerful process for illuminating the world. This course will examine contemporary artistic documentary filmmaking in both theory and practice. Students will learn practical storytelling skills including interviewing, lighting, cinematography, and editing, concept formulation and refinement, producing and directing. Over the course of the 9-week program, students will have the opportunity to develop and workshop original films under the guidance of an award-winning documentary filmmaker. (Class size: 8 – 10)
Date:
9 Thursdays: 10/12, 10/19, 10/26, 11/2*, 11/16*, 11/30, 12/7, 12/14, 12/21
*Projected Shoot Day Time:
6:30 PM – 9:30 PM
Cost:
$600 / Members $540

Creating Your Animated Series: From Concept to Greenlight
Lecture and Q&A with Award Winning Writer and Showrunner, Monica Violet Joy
Ever dream about creating your own animated kids' show? Discover the world of animation creation with our comprehensive one-day Masterclass led by Monica Joy—an industry professional with a background spanning companies like Blue Sky Studios, Dreamworks, Netflix, Nickelodeon, and more.
This Masterclass delves into essential topics such as storytelling, character creation, world-building, and finding the right tone for your project. Through lectures, discussions, and real-world examples, you'll gain practical knowledge on crafting unique stories and how to assess which type of animation is right for your idea. You'll explore the intricacies of developing your idea, creating pitch bibles, networking within the industry, and effectively marketing your product. Designed for aspiring creatives, this one-day workshop provides a valuable toolkit for anyone looking to take their animated ideas from concept to reality.
This course will be offered In-Person and on ZOOM.

Editing with Premiere Pro 1
In this immersive beginner's workshop get ready for a hands-on experience like no other as we unveil the magic of editing! Students will learn the interface, controls, and features of the industry-standard software, Adobe Premiere Pro. Our instructors will teach you how to log footage, create a rough cut, add titles and credits, implement transitions, work with sound, and even play with color. Students will also begin to learn the craft and language of editing. (Class size: 8-12)
Dates:
11/18, 11/19

Intro to Photoshop (15+)
Ever wonder how graphic design logos or photos are edited? Look no further! In this hands-on design course, students will learn the necessary tools and fundamentals of graphic designing, image manipulation and photo editing through the industry-standard software Adobe Photoshop. Students will also learn how to navigate through the program's interface by creating new compositions, saving and exporting projects, working with multiple layers, and so much more. This course was developed to introduce the technique behind digital design and bring a simple idea to life! At the end of the workshop, students will have a collection of digitally rendered projects that can be shared with friends and family. No previous design experience required! (Class Size: 8-12)
Cost:
$175 / Members $157.50

Voice Acting: Build Your First Reel (16+) – SOLD OUT
Voiceover is everywhere! In addition to learning about the multi-faceted voiceover industry, in this class we will explore what makes voiceover performances compelling. We will also begin developing the tools necessary to execute them. Topics will include script analysis and interpretation, inflection, pacing, context, vocal quality, and finding your signature sound. Students will get to perform both commercial and narration copy in a classroom setting as well as in our studio. Students will leave the class with a short starter reel comprised of sample commercials, TV Show narration, radio copy, and more! (Class Size 6 – 8)
Date:
8 Tuesdays: 10/17, 10/24, 10/31, 11/7, 11/14, 11/21, 11/28, 12/5
Cost:
$500 / Members $450
Instructor:

Improv Sampler: Unleash Your Creativity!
Curious about improv? Join our one-day Improv Sampler to experience the fundamentals of spontaneous creativity! Through fun games and exercises, you'll learn to listen, agree, and collaborate with your fellow participants. No experience needed—just come with an open mind and a desire to have fun! Our supportive instructor will guide you as you create characters, build scenes, and explore your creativity in a safe and friendly environment. It's a perfect opportunity to dip your toes into the world of improv before committing to a class. (Class size: 8 – 13)
Time:
1:00 PM – 3:00 PM
A great introduction to improv. Nothing too demanding, but you will get pushed outside of your comfort zone and meet new people. -Improv Adult Student

Improv: Student Showcase! (16+)
The fundamentals of improvisation are the fundamentals of life. Listening, agreeing, forwarding action, taking care of your partner and so much more! You'll be introduced to those lessons as you play games as well as create characters and scenes using a variety of improv and creativity exercises. You can't do anything wrong, no experience necessary! Number one rule is to have fun!
This workshop ends with a live performance you can invite your family and friends to! (Class size: 8 – 13)
Date:
8 Wednesdays: 10/18, 11/1, 11/8, 11/15, 11/29, 12/6, 12/13, 12/20
Cost:
$350 / Members $315

Storytelling (16+)
Everyone has a unique story to tell, but not everyone has the training or the confidence to feel comfortable telling it. Do you get nervous running meetings at work? Do you want to ensure your message is well received on the radio, a podcast, or at your next fundraiser? Then the Art of Storytelling is the perfect first step for you! In this course, we will review the basics of storytelling and performance to ensure you are your best self in front of any group. Whether or not you want to work on confidence in preparing your next professional storytelling performance with Montclair Film Story Slams, this class will give you the tools you need to deliver high quality stories, performances, and content in whatever spaces you choose! (Class size: 7 – 10)
Date:
4 Mondays: 11/27, 12/4, 12/11, 12/18
Cost:
$200 / Members $180
Instructor:
Duncan Miller
It was a great experience to learn a method of thinking about how to tell a story that pulls from your personal life. The feedback was constructive and was a terrific way to use my energy and brain in a refreshing way once a week.
Virtual Workshops

Screenwriting 1 (16+) – Virtual
Students will learn the fundamentals of screenwriting from format to techniques to story structure. Students will analyze the work of successfully produced screenplays to learn what it takes to write for film and television, as well as receive valuable feedback from their peers and their instructor as they develop their own ideas! This course was developed to lay the foundation for screenwriters, no previous screenwriting experience is required. (Class Size: 7 – 10)
Date:
8 Tuesdays: 10/17, 10/24, 10/31, 11/7, 11/14,11/21, 11/28, 12/5
Cost:
$350 / Members $315
"Extremely well organized and practical. Best screenwriting class I have ever taken." – Adult Student Screenwriting 1

Screenwriters Lab (16+) – Virtual
Stuck in your script? Screenwriters Lab is a perfect class for screenwriters about to start a script or with a script in progress. Hear your screenplays come to life during table reads with your class. Receive peer feedback from other students and professional feedback from our instructor. Plan, write, edit, and polish your scripts to get them ready for production, contests, and festivals! Students should have a working knowledge of script format and a sense of basic story structure. (Class size 8-10) Screenwriting I recommended.
Date:
8 Thursdays: 10/19, 10/26, 11/2, 11/9, 11/16, 11/30, 12/7, 12/14
Time:
7:00 PM – 9:30 PM
Cost:
$400 / Members $360

MEMBERS: Log in to receive 10% MEMBERSHIP DISCOUNT.
(Please Note: Discount applies to $95 Film Lover+
membership level or higher)

Don't see the class you want? Help us make it happen: Film Academy Class Request
For More Information Contact: Education@MontclairFilm.org