Fall Classes (Grades 6 – 12)
Fall Classes for Students in Grades 6 – 12

* Filmmaking 101 * Middle School Filmmaking * High School Filmmaking *
Cinematography * Screenwriting * Animation * Editing with Premiere Pro *
*Intro to Photoshop (15+) * High School Improv *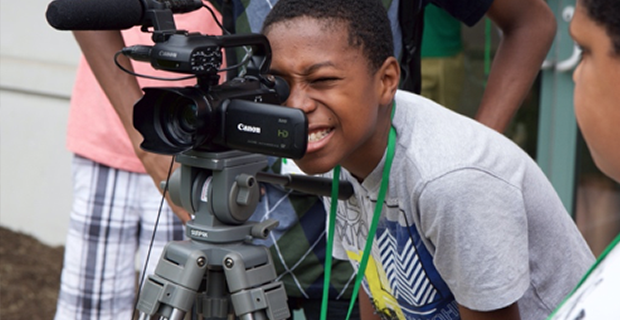 Filmmaking 101
In this one-day, hands-on workshop, students will learn how to generate ideas for their films, and will be introduced to the fundamentals of filmmaking including: shot composition, camera angle, shooting, lighting and sound. With an emphasis on practical, guerilla-style filmmaking, students will discover how to bring their ideas to life! This is an excellent class for students who want to test the filmmaking waters before committing to a longer workshop. (Class size 7– 15)

Middle School Filmmaking
In this hands-on workshop, students will learn how to generate ideas for their films, and will be introduced to the fundamentals of filmmaking including: shot composition, camera angle, shooting, lighting and sound. Students will learn to work together, taking on the many jobs involved in filmmaking as they create a short film of their very own. Act, direct, shoot, light, edit! The class will culminate with a screening of their short films in our own Cinema505– family and friends are invited to join!
No experience is required, however, this class can be repeated since each unique film presents new challenges and opportunities to develop and sharpen your filmmaking skills. (Class size: 7-12)
Dates:
9 Wednesdays: 10/11, 10/18, 10/25, 11/1, 11/8,
11/15, 11/29, 12/6, 12/13
Cost:
$500 / Members $450
Instructor:
Axel Ortiz and Kayleigh Nardella
"It taught us so much in such a little amount of time. It was a perfect balance between talking and doing activities." – Middle School Filmmaking Student

High School Filmmaking
In this hands-on filmmaking workshop, students will learn and practice the art of filmmaking from script to screen. Students will work together as a film crew to generate ideas, work with actors, and master camera, lighting, and sound techniques. Students will also learn the basics of editing in Adobe Premiere Pro. In each class, students will work both behind and in front of the camera, in both exterior and interior locations, so that they can gain as much experience as possible. Final films will be screened for friends and family in Cinema505 on the last day of class!
No experience is required, however, this class can be repeated since each unique film presents new challenges and opportunities to develop and sharpen your filmmaking skills.(Class size: 7-12)
Dates:
10 Sundays 10/8, 10/15, 10/29, 11/5, 11/12,
11/19, 11/26, 12/3, 12/10, 12/17
Time:
10:00 AM – 12:30 PM
Cost:
$700 / Members $630
Instructor:
Ryan Moore and Axel Ortiz
"I really liked that it involved everything. Screenwriting, directing, cinematography, sound, editing, everything. I also like that it was a very positive environment that made it really fun." -Teen Student, High School Filmmaking

Cinematography Workshop
Unlock the secrets of cinematography! Learn how to up your camera game to give your films a sleek, professional look. Discover how to use the cameras as a powerful storytelling tool capturing the essence of narratives through stunning visuals. And get comfortable with the technical know-how to get your films shot! From lighting, to lenses, to color theory, this hands-on workshop will provide knowledge and techniques that aspiring filmmakers need to improve their craft. (Class size: 7 – 12)
Dates:
12/9, 12/10
Cost:
$230 / Members $207

Editing with Premiere Pro 1
In this immersive beginner's workshop get ready for a hands-on experience like no other as we unveil the magic of editing! Students will learn the interface, controls, and features of the industry-standard software, Adobe Premiere Pro. Our instructors will teach you how to log footage, create a rough cut, add titles and credits, implement transitions, work with sound, and even play with color. Students will also begin to learn the craft and language of editing. (Class size: 8-12)
Dates:
11/18, 11/19
Cost:
$220 / Members $198

Animation
Art and technology come together in this dynamic hands-on workshop! Students will learn frame by frame animation, storyboarding, character development, voice acting and storytelling and more using Pencil 2D, a free professional painting program for 2-D animation. By the end of the course, students will have created a short animation from the planning stages (storyboarding and character designing) through post-production. No previous experience is required! Taken Animation before? Continue to work on your projects and improve your skills under the guidance of our instructors! (Class size: 8 – 10)
Dates:
9 Mondays: 10/16, 10/23, 10/30, 11/6, 11/13, 11/20, 11/27, 12/4, 12/11
Cost:
$450 / Members $405

Screenwriting
Students will learn the fundamentals of screenwriting from format, to techniques, to story structure. Students will analyze the work of successfully produced screenplays to learn what it takes to write for film and television, as well as receive valuable feedback from their peers and their instructor as they create their own original short, feature, or television scripts! (Class Size: 7 – 10)
Dates:
8 Saturdays: 10/14, 10/21, 10/28, 11/4, 11/11, 11/18, 12/2, 12/9
Time:
10:00 AM – 12:00 PM
Cost:
$368 / Members $331
Instructor:
Kayleigh Nardella
"I would also like to thank you: the Montclair Film screenwriting class was the first screenwriting class I ever took and I just recently pressed "Accept" to be a dramatic writing major at NYU TISCH so thank you for being the first experience to spark my interest." -Kianni Keys, High School Screenwriting Student

Intro to Photoshop
Ever wonder how graphic design logos or photos are edited? Look no further! In this hands-on design course, students will learn the necessary tools and fundamentals of graphic designing, image manipulation and photo editing through the industry-standard software Adobe Photoshop. Students will also learn how to navigate through the program's interface by creating new compositions, saving and exporting projects, working with multiple layers, and so much more. This course was developed to introduce the technique behind digital design and bring a simple idea to life! At the end of the workshop, students will have a collection of digitally rendered projects that can be shared with friends and family. No previous design experience required! (Class Size: 8-12)
Cost:
$175 / Members $157.50

High School Improv
The fundamentals of improvisation are the fundamentals of life. Listening, agreeing, forwarding action, taking care of your partner and so much more! You'll be introduced to those lessons as you play games as well as create characters and scenes using a variety of improv and creativity exercises. You can't do anything wrong, no experience necessary! Number one rule is to have fun! This class ends with a live performance you can invite family and friends to attend! (Class size: 7 – 10)
Dates:
8 Fridays: 10/6, 10/13, 10/27, 11/3, 11/10, 11/17, 12/1, 12/8
Cost:
$325 / Members $292

MEMBERS: Log in to receive 10% MEMBERSHIP DISCOUNT.
(Please Note: Discount applies to $95 Film Lover+
membership level or higher)

Montclair Film is committed to providing access to our education programs for all students.
Don't see the class you want? Help us make it happen: Film Academy Class Request
For More Information Contact: Education@MontclairFilm.org