Adult Workshops (age 16+)
ADULT (16+) Workshops Fall 2019
Creative Workshops to Express your Unique Voice!
From Improv, Screenwriting, and Editing to Voice Acting— and more! Take a look at all of the options and register today to save your spot! Classes are for students 16+. New classes are added regularly, so keep checking back!


NEW Documentary Filmmaking
Let's get real! Learn critical filmmaking techniques, develop storytelling aptitude and embark on a meaningful artistic journey through the documentary form. This course marries both practical hands-on skill-building and vital theoretical study for successful filmmaking. Students will work directly with camera, sound and lighting equipment, learn to edit on Premier Pro, develop interviewing skills, and grasp the basics of producing and directing their own work. Students will make two short documentaries by the end of session and have a chance to screen it for friends and family in Montclair Film's Cinema505!
Dates: 8 Thursdays 10/10, 10/17, 10/24, 11/7, 11/14,11/21,12/5,12/12
1 Saturday 11/9*
Time: Thursdays 7:00 – 9:30 PM
Saturday 11/9 1:30 – 4:30 PM*
Cost: Non Members:$435/ Members $393
*Saturday 11/9 is scheduled as a location shoot. Exact time and date for this class is subject to change, depending on availability of student crew and documentary subject.
Instructor: Instructor: David Gaynes

Improv I – CLOSED
The fundamentals of improvisation are the fundamentals of life. Listening, agreeing, forwarding action, taking care of your partner and so much more! You'll be introduced to those lessons as you play games as well as create characters and scenes using a variety of improv and creativity exercises. You can't do anything wrong, no experience necessary! Number one rule is to have fun! (Class size: 8 – 12)
Dates: 8 Wednesdays 10/23, 10/30, 11/6, 11/13, 11/20, 11/27, 12/4, 12/11
Time:7:30 – 9:30
Cost: Non Members:$275/ Members $247
Instructor: Luke Ward

Improv II
The study of improv moves forward into more scene work and character development. Students who have completed the MF Adult Improv 1 class (or others with experience can petition) will work on longer form improvisation including scene montages, monologues, and more advanced games. More exposure to thinking on your feet. Oh, and fun, there will be fun. The final class includes a performance! (Class size: 8 – 12)
Dates: 8 Tuesdays : 10/22, 10/29, 11/5, 11/12, 11/19, 11/26, 12/3, 12/10
Times: 7:30 – 9:30
Cost:Non Members:$275/Members: $247
Instructor: Abby Sher

The Art of Storytelling
Everyone has a unique story to tell, but not everyone has the training or the confidence to feel comfortable telling it. Do you get nervous running a meeting at work? Do you wish you had more confidence speaking at events? Do you want to ensure your message is well received on the radio, a podcast, or at your next fundraiser? Then the Art of Storytelling is the perfect class for you!
In this course, we will review the basics of storytelling and performance to ensure you become your best self in front of a crowd. Novice and veteran storytellers alike are welcome to sign up. We will learn from each other and join a growing community of storytellers in a time when sharing your stories and messages clearly and correctly is so vital. Whether you want to work on confidence and poise in large groups or work on preparing your next professional storytelling performance with the monthly Montclair Film Story Slam's, this class will give you the tools you need to deliver high quality stories, performances, and content in whatever spaces you choose! (Class size 8-12)
Dates: 3 Mondays 10/21, 10/28, 11/4
Times: 7:00pm – 9:00pm
Cost: Non Members$ 100/Members $90
Instructor: Duncan Miller

Screenwriting I – CLOSED
Do you have an idea that belongs on the big screen? Then this may be the class for you! In this screenwriting workshop, students will learn the fundamentals of screenwriting, from format, to techniques, to story structure. We will also explore character development and dialogue. Students will analyze the works of selected short films and learn the screenwriting process from idea to a working draft. As a workshop class, students will receive valuable feedback from their peers and their instructor as they develop their own original works in class. No previous screenwriting experience is required. (Class Size 8-12).
Dates: 8 Thursdays 10/10, 10/17, 10/24, 11/7, 11/14, 11/21, 12/5, 12/12
Time: 7:30 – 9:30
Cost: Non-Members: $275/Members: $247
Instructor: Gloria La Morte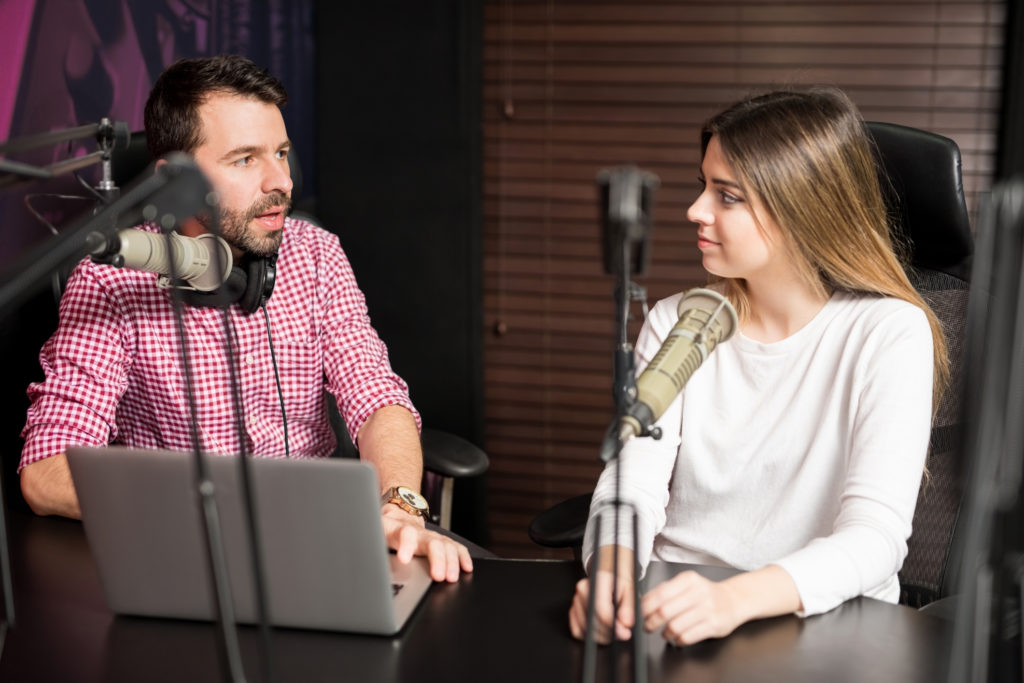 Podcast like a Pro I
From Radiolab to The Adventure Zone, podcasting has changed the face of our modern media landscape. This hands-on course will show you how to develop and produce your very own show in the MFF Storytelling Studio! Learn mic technique, mixing, post-production, and what makes for an interesting podcast from our guest instructor, Frank Hablawi of Non-Productive.com. (Class size 8 – 12)
Dates:4 Tuesdays 10/29, 11/5, 11/12, 11/19
Times:7:00 – 9:30
Cost: Non Members: $250/Members: $225
Instructor: Frank Hablawi

Podcast Like a Pro II: Development Lab – CLOSED
Develop and produce your own Podcast in Montclair Film's state of the art Storytelling Studio! This practicum builds on the basics you learned in our introductory class, Podcast like a Pro I, enabling students to leverage the skills they've acquired there to pitch, produce, and publish their own shows. Under the guidance of our guest instructor Frank Hablawi, students will produce their own professional Podcasts. Included in the workshop cost is studio time between classes to record your personal material to develop in class. Classes are scheduled to allow ample time between classes to record your materials to work on in class.. Upon completion of this workshop, students should have 1 – 3 completed episodes of their podcast! Podcast Like a Pro I or special permission is required. (Class size: 8 – 10)
Dates: 4 Tuesdays 11/26, 12/10, 1/7, 1/21
Times:7:00pm – 9:30pm
Cost: Non Members:$325 /Members: $293 (includes 3 hours of studio time outside of class)
Instructor: Frank Hablawi

Editing with Premier Pro I
This hands-on beginner workshop will cover the interface, controls, and features of the industry-standard software Adobe Premiere Pro. Students will learn how to combine video, still images, and music to tell their stories. It is recommended that students take Editing with Premier Pro I and II simultaneously. (Class size: 8-12)
Dates: 2 Sundays 11/3 and 11/10
Times: 2:00 – 4:30
Costs: Non Members: $125/ Members: $113
Instructor: Chris Stetson
Editing with Premier Pro II (11 – Adult)
For students who have completed Editing with Premier Pro I or have a basic understanding of Premier Pro, this course will continue to work on Editing fundamentals while introducing new skills such as Filters and Transitions, Basic Color Correction, Sound Leveling, Mixing and more! Editing with Premier Pro I recommended. (Class size 8-12)
*** Note: No prior editing skills are required, however, it is recommended that if you are a beginner you take both Edit 1 and 2
Dates: 11/17 and 11/24 (Two Sundays)
Times: 2:00 – 4:30
Cost: Non Members: $125/Members: $113
Instructor: Chris Stetson

Voice Acting
Voiceover is everywhere! In addition to learning about the multi-faceted voiceover industry, in this class we will explore what makes voiceover performances compelling. We will also begin developing the tools necessary to execute them. Topics will include script analysis and interpretation, inflection, pacing, context, vocal quality, and finding your signature sound. Students will get to perform both commercial and narration copy in a classroom setting as well as in the studio. (Class Size 8 – 10 )
NEW Dates: 5 Wednesdays  11/6, 11/13, 11/20, 12/4 and 12/11
Times: 7:30 – 9:30
Cost: Non Members:$240/Members: $216
Instructor: Claudine Ohayon

The Art of Stand-up Comedy
Looking to try Stand-up for the first time? Expand your material? Refine your existing set? In this class you'll generate material, craft jokes, build a monologue and develop your unique comedy persona. You'll learn about timing, act-outs and voice. You will learn microphone technique and how to speak to an audience. Each day, students will get up in front of the class and perform, building their comfort level and their confidence. The workshop will culminate in a graduation show at Montclair Film's Cinema 505, which will be filmed so students can see their performances. . Requirements: A notebook, a pen and your sense of humor. (Class size: 8 – 12)
Dates: 8 Mondays 10/21, 10/28, 11/4, 11/11, 11/18, 11/25, 12/2, 12/9
Time: 7:30pm-9:30pm
Cost: Non Members: $275/Members: $247
Instructor: Eileen Kelly

Special Effects Make-up
This hands- on workshop will teach you how to create and apply film quality Special Effects Make-up. Practice working with professional color wheels to create realistic cuts, bruises, and ghoulish characters. You will even learn to create and apply professional 3D appliances like scars and bullet holes. Bring home your materials to take your horror films to a new level — or just knock 'em dead on Halloween! (Class Size: 10 – 16)
Date: 10/27
Ages: 11 – Adult
Time: 11:00 – 1:30
Cost: Non Members:$65 (includes $30 materials fee) Members: $58.50
Instructor: Sarah E. H. Marcus

MEMBERS: Log in to receive 10% MEMBERSHIP DISCOUNT.
(Please Note: Discount applies to $75 Family membership or higher)
For More Information Contact: Education@MontclairFilm.org