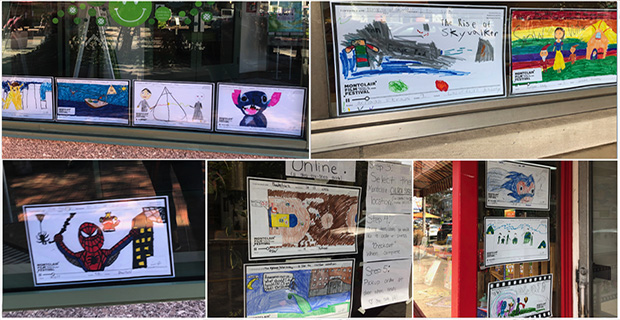 The Montclair Film Kids Art Project has been a beloved tradition since our beginning. This year we've had to do things a bit differently. Here's how to participate:
Pick up a blank template at one of our drop box locations listed below.
Draw a picture of your favorite film on the template (in color please).
Drop off your finished drawing at one of the drop box locations before 8/31/21.
See your drawing posted in a business window around town starting in mid-September.
If you see the art, let everyone know and post on social media with the tag #KidsArtMFF2021.
Montclair Film Kids Art Project 2021 by School and Locations:
Montclair Public Library – Main branch
50 South Fullerton Ave.
Montclair, NJ 07042
Montclairlibrary.org
Montclair Public Library – Bellevue branch
185 Bellevue Ave.
Montclair, NJ 07043
Montclairlibrary.org
YMCA Montclair – Park Street
25 Park Street
Montclair, NJ 07042
montclairymca.org
Just Kidding Around
507 Bloomfield Ave.
Montclair, NJ 07042
jkatoys.com
The General Store at Cornerstone Montclair
198 Bellevue Ave.
Montclair, NJ 07043
cornerstonegeneralstore.com