Virtual Cinema
A Pigeon Sat on a Branch Reflecting on Existence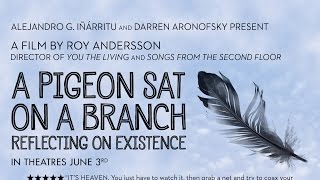 $10 Regular
$8 for Members (not a member?)
Virtual Screening Available In the USA
Available Friday, April 23 – Thursday, May 13
NEW YORK TIMES CRITIC'S PICK!
Roy Andersson's Venice Film Festival Golden Lion Winner, A PIGEON SAT ON A BRANCH REFLECTING ON EXISTENCE, follows Sam (Nils Westblom) and Jonathan (Holger Andersson), a pair of hapless traveling salesmen peddling novelty items, which like a modern day Don Quixote and Sancho Panzatake us on a kaleidoscopic tour of the human condition in reality and fantasy, unfolding in absurdist episodes: a sing-along at a 1940s beer hall, a randy flamenco teacher, a thirsty King Charles XII of Sweden en route to battle, and a diabolical metaphor for the horrors inflicted by European colonialism. It is a journey that unveils the beauty of single moments, the pettiness of others, life's grandeur, and the humor and tragedy hidden within us all. Like his previous features SONGS FROM THE SECOND FLOOR and YOU, THE LIVING, the master Swedish director takes up the theme of "being a human being" with this meticulously crafted, dreamlike black comedy.
In Swedish with English subtitles.
Genre

Comedy, Drama, Foreign Language, Classics, Subtitled, Award Winner, Critics' Pick, Fantasy

Runtime

100 min

Release Year

2014

Director

Roy Andersson

Producer

Philippe Bober, Pernilla Sandström

Cast

Holger Andersson, Nils Westblom, Charlotta Larsson, Viktor Gyllenberg, Lotti Törnros

Country

Sweden, Germany, Norway, France, Denmark