Virtual Cinema
About Endlessness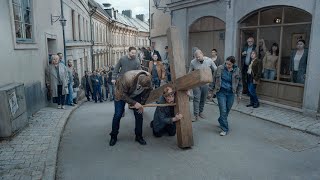 $10 Regular
$8 for Members (not a member?)
Virtual Screening Available In the USA
Available Friday, April 30 – Thursday, May 20
NEW YORK TIMES CRITIC'S PICK!
A reflection on human life in all its beauty and cruelty, its splendor and banality. We wander, dreamlike, gently guided by our Scheherazade-esque narrator. Inconsequential moments take on the same significance as historical events: a couple floats over a war-torn Cologne; on the way to a birthday party, a father stops to tie his daughter's shoelaces in the pouring rain; teenage girls dance outside a cafe; a defeated army marches to a prisoner-of-war camp. Simultaneously an ode and a lament, Roy Andersson's ABOUT ENDLESSNESS presents a kaleidoscope of all that is eternally human, an infinite story of the vulnerability of existence in the master Swedish director's (A PIGEON SAT ON A BRANCH REFLECTING ON EXISTENCE) latest film.
Pre-Recorded Q&A with director Roy Andersson and Palme d'Or winning/Oscar® nominated filmmaker Ruben Östlund (THE SQAURE, FORCE MAJEURE) to follow the film.
In Swedish with English subtitles.
Genre

Runtime

76 min

Release Year

2019

Director

Roy Andersson

Producer

Johan Carlsson, Pernilla Sandström

Cast

Bengt Bergius, Anja Broms, Marie Burman, Amanda Davies, Tatiana Delaunay

Country

Sweden, Germany, Norway, France