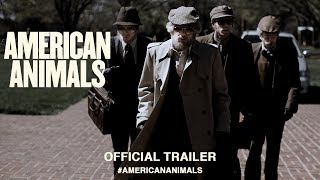 $14 Regular
$12 For Members (not a member?)
The unbelievable but mostly true story of four young men who mistake their lives for a movie and attempt one of the most audacious art thefts in US history. AMERICAN ANIMALS is a heist movie of sorts, an existential journey of four misguided young men searching in all the wrong places for identity, meaning, adventure and a "special" life. Documentary filmmaker Bart Layton's first foray into fiction filmmaking is a fascinating reflection of young male privilege and entitlement, crafted as a documentary hybrid.
Q&A with producer Daniel Battsek to follow.
Genre

Fiction, Comedy, Coming of Age, Drama, True Crime, Visual Arts, Feature Film

Runtime

116 min

Section

Fiction Feature

Director

Bart Layton

Producer

Katherine Butler, Poppy Dixson, Dimitri Doganis, Derrin Schlesinger

Cast

Evan Peters, Barry Keoghan, Blake Jenner, Ann Dowd, Udo Kier

Country

USA/ UK

Facebook page

Twitter account