Virtual Cinema
Collective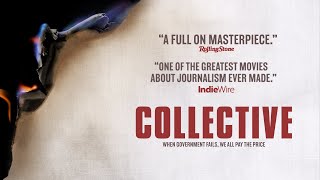 $12 Regular
$10 for Members (not a member?)
Virtual Screenings Available In the USA Only
Available Monday, October 26
In the aftermath of a deadly fire in a Bucharest nightclub that left dozens dead, Romania's government pledged that the over 100 citizens left injured would receive immediate and substantial treatment. But in the weeks and months that followed, what seemed like treatable injuries continued to lead to further unexplainable deaths, prompting an unlikely group of investigative journalists at the Sports Gazette to launch an investigation into what went wrong. Uncovering a scandal reaching into the highest levels of government, the team soon discovers that their story is larger than they ever imagined, leading to mass protests across Romania and the toppling of the Prime Minister. Following the investigation as it progresses, Alexander Nanau's revelatory documentary is a powerful indictment of governmental corruption and a tribute to those working tirelessly to uncover the truth.
In Romanian with English subtitles.  Closed captions are also available for this film.  To see a full list of subtitled and captioned programs, click here. 
Pre-Recorded Q&A with director Alexander Nanau to follow.
Genre

Criminal Justice, Documentary, Foreign Language, Health & Wellness, Media, Politics, Feature Film, MFF Virtual Cinema

Runtime

109 min

Section

Documentary Feature Competition

Release Year

2020

Director

Alexander Nanau

Producer

Alexander Nanau, Bianca Oana, Bernard Michaux, Hanka Kastelicová

Country

Romania/ Luxembourg