News
EMERGING BLACK
VOICES Ask: Which Way is Up?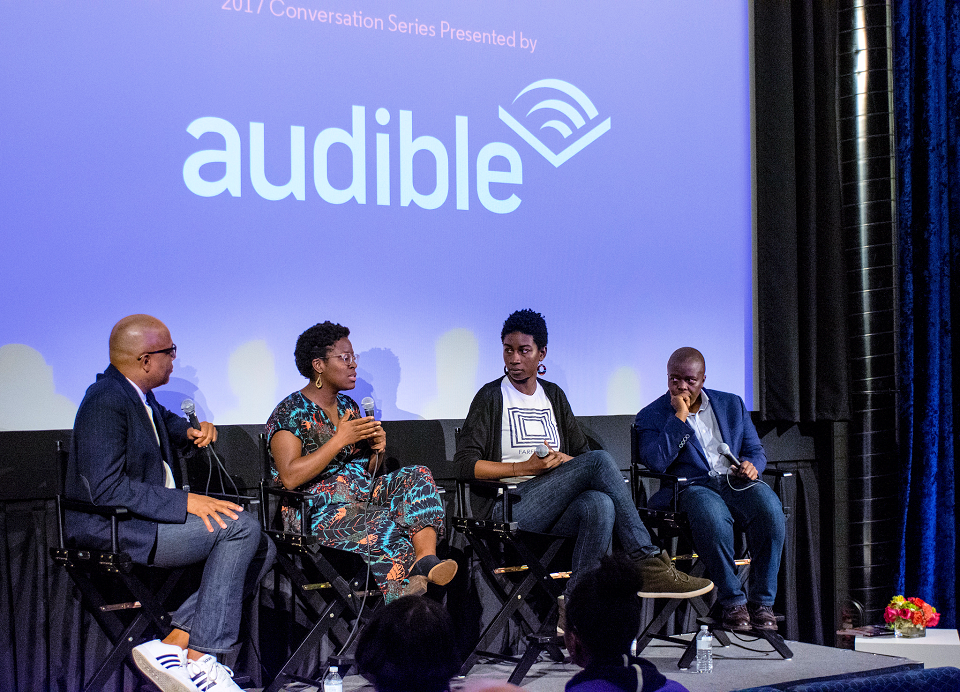 The Montclair Film Festival along with Audible presented the EMERGING BLACK VOICES panel last Saturday at Cinema505, held in partnership with the American Black Film Festival. The 2017 inaugural program highlighted the contributions of up-and-coming African American professionals in the independent and documentary film community.
Guest speakers Iyabo Boyd (producer, FOR AHKEEM), Sabaah Folayan (director, WHOSE STREETS?), and Yance Ford (director, STRONG ISLAND) dished on the filmmaking process, how they discovered the subjects of their thought-provoking documentaries, and their mission as artists. Here are just a few highlights from the conversation.
Moderator Patrick Harrison, Director of New York Programs and Membership for the Academy of Motion Picture Arts & Sciences, wanted to jump back into a car ride conversation they were having during the drive over to Cinema505.
What is an emerging black voice and what does that mean to you as filmmakers being here at this festival?
The idea of making art a professional career was once a scary thought to Sabaah Folayan. "I've always been a creative person but I was pursuing a career in medicine–something that I thought was safe." But when Ferguson broke out, she started documenting her film, WHOSE STREETS?, and soon gained the interests of various media labs and other supportive film-related communities that she never even knew existed.
Now with one film under her belt, Sabaah professed, "I'm looking for role models and there are very few black women who are making work on their own terms. That doesn't make sense when I'm sitting next to two filmmakers–a trans man and a black woman, who have been making films for over a decade–they shouldn't be in the same category as me. The label of emerging just sticks to us and we constantly have to prove ourselves–over and over and over and over again. I'm honored to be in this space and I consider myself an emerging voice, but I hope that in 10 years I'm not having to answer the question of, 'How does it feel to be an emerging voice?'"
Yance Ford got "a really cool" day job in 2002, as a series producer at the PBS documentary series POV, but he had bigger dreams in mind. He worked on STRONG ISLAND–a film about the murder of his brother–at night, on weekends, sick days and holidays. Finally, a large grant came through from the Ford Foundation and he was able to take a leave of absence in 2012 to finish the film.
"Being an emerging filmmaker is living the reality of not being someone who was able to enter the world as an artist from the get go… someone who is living the experience of actually having talent and that talent is suppressed," he described.
Iyabo Boyd is the founder of Feedback Loop, a non-profit organization that offers filmmaking mentorship, grant writing support and more. She too, left her day job to begin producing films.
"Part of my job for the last year and a half on FOR AHKEEM is to be the black voice, in the edit room, on shoots, on stage, to my directors and to the people participating in our film. So I really appreciate the idea of someone recognizing that I had a contribution creatively to the process of filmmaking itself, but also to the process of being filmmakers and telling the story that we've been telling," she said. "For a lot of black filmmakers or any filmmakers of color, or women filmmakers, it can take many years before people stop seeing you as emerging and actually give you the opportunity to take the next two or three jobs, or steps forward in your career. There's this glass ceiling that's actually quite low for us."
Despite the awards and rave reviews across the country and overseas, the filmmakers admitted, that phones are not ringing off the hook. Patrick wondered, "Are we looking for our next job or is it better to create our own?"
Yance was excited to announce that despite numerous rejections from traditional theatrical distributors, STRONG ISLAND was sold to Netflix. "In hindsight, a whole family of people can watch my film with one person in the home being a member, as opposed to buying a $15-$16-$17-$18-$19-$20 movie ticket to go see the film. I'm really excited about 100 million subscribers in 190 countries!"
Sabaah affirmed, "I don't think the industry… has the actual vocabulary to understand how to register our work. They need to put it into a 'black film' category and they need to ask if 'I want to do another documentary about police violence, another documentary about activism, another documentary about Black Lives Matter,' because they cannot conceptualize our storytelling outside the context of our race. I don't know who's responsible, but I have a feeling that it's the gatekeepers and the people who are not taking certain risks because of their bottom lines… or the paradigm that they're in. But people need to be taught how to understand our storytelling–on the level of storytelling. I don't pick which movies I'm going to watch based on whether or not they're 'black movies.' I already know that any movie that's a human story is going to have something to offer me." Magnolia Pictures will present WHOSE STREETS? August 11 in wide release.
As an insider at the Academy, Patrick isn't making movies, but he supports the film industry and knows all about starting life out on one path and ending up on another. "I also started out pre-med and didn't know that there was a trail into the entertainment world, and specifically where I am in the programming world." He'd been quoting Hamilton for the past two weeks. The opportunity was there and "I'm not throwing away my shot."
View more pics from this event!
Written by MFF Blogger Tonya Johnson