Series
NJ PBS + Montclair Film Announce New Front Row Festival Series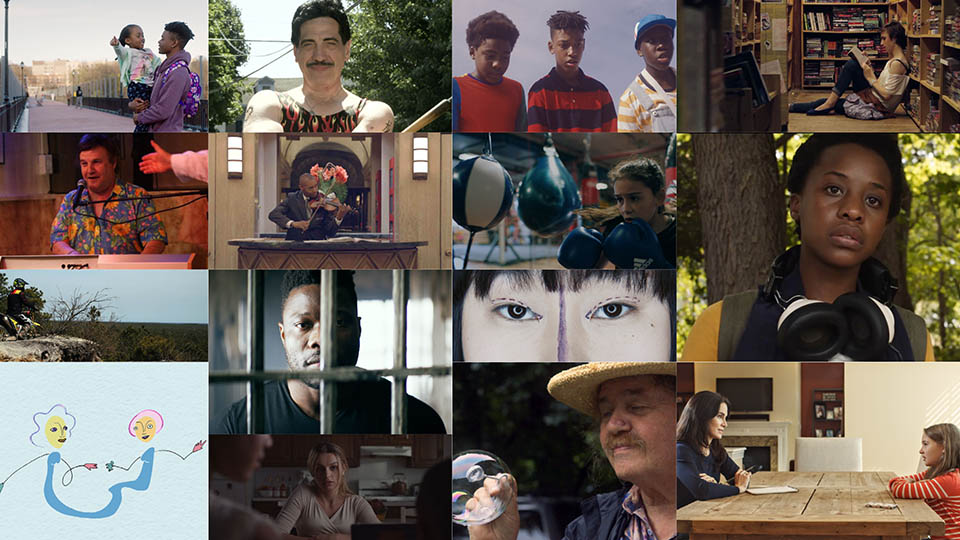 NJ PBS, New Jersey's public television network, and Montclair Film, New Jersey's leading film non-profit, today announced their collaboration on FRONT ROW FESTIVAL, a new, six-week television series featuring independent films created by local filmmakers from New Jersey and surrounding areas. The weekly series will air Thursdays at 10 p.m., September 9 through October 14 on NJ PBS.
Hour-long episodes of FRONT ROW FESTIVAL will feature either a full-length documentary or a collection of short films and conversations with the filmmakers, bringing audiences behind the screen to discover the art of filmmaking from an exciting, diverse group of artists.
"We are delighted to be working with Montclair Film to launch our first season of what promises to be an entertaining series that brings the film festival experience into homes across New Jersey," said FRONT ROW FESTIVAL Series Producer, Susie Hernandez. "It's an exciting way to make the arts accessible to all in a way that only public television can."
"We're incredibly proud to be partnering with NJ PBS on their exciting new series," said Montclair Film Executive Director Tom Hall. "FRONT ROW FESTIVAL brings the work of filmmakers and subjects to public television audiences throughout New Jersey, and we are thrilled to be able to showcase these wonderful films on NJ PBS."
FRONT ROW FESTIVAL is a NJ PBS production. The full FRONT ROW FESTIVAL episode schedule is as follows:
September 9: EXPLORING LIFE WITH EMILY HUBLEY
A compilation of animated shorts directed by Emily Hubley:
AND/OR: An artist struggles to navigate the territory between despair and epiphany.
BRAINWORM BILLY: A young man is haunted by a famous comedian.
FAITHY, HEY: Artist/filmmaker Faith Hubley drew a self-portrait in her journal every day for the last decades of her life. Years later, her daughter revisits specific memories and dreams, and considers a relationship altered by death.
HER GRANDMOTHER'S GIFT: A grandmother discusses past and present attitudes toward menstruation.
PIGEON WITHIN: A late-night encounter with what may be her guardian angel causes a young woman to second guess her reality.
September 16: COMING INTO YOUR OWN
ACE, directed by Morgan Nichols: Ace's crush invites her over after school.
CATCH A GIRL, directed by LeRon Lee: With his elementary understanding of courtship, 11-year-old Darius meets up with friends that conspire to play a popular "predator vs. prey" childhood game, targeted to take advantage of girls.
ETYMOLOGY, directed by Maria McIndoo: A mother prepares her daughter for a spelling bee, but as preparations gather pace, so does the pressure, and soon before, the veil of perfection begins to slip.
JUSTINE, directed by Eric Shahinian: A transgender teenager looks for love and trys to overcome her fears.
September 23: THE MOMENT THAT CHANGED EVERYTHING
CONTOURS, directed by Javian Le: An Asian American teenager takes refuge in a hotel suite as she recovers from cosmetic eyelid surgery.
GRIND, directed by Yuri Alves: GRIND follows Robert Wilmote, a Liberian refugee and convicted felon who transformed his life following his release from prison and –now challenges others to do the same.
THE HIGH BRIDGE, directed by Benedict Campbell: Bronx teenager reluctantly confronts fatherhood when his young daughter visits her doctor.
LILY, directed by Mimi Jeffries: Mel attends her baby shower.
September 30: STORIES FROM THE HEART
COWTOWN, directed by Greg Kohs: The story of the oldest weekly rodeo in the United States, the Cowtown Rodeo. The film captures East Coast Cowboys striving to keep their birthright intact, as Howard "Grant" Harris, the great-grandson of its founder, and his family fend off the seemingly inevitable march of suburbia and modernity to do what they know and love best.
JESSZILLA, directed by Emily Sheskin: Jesselyn "JessZilla" Silva is serious about boxing, and at 10 years old, trains seriously with dreams of becoming a professional fighter. Her father, Pedro, finds himself caught in between supporting her dream and worrying about her future in boxing.
TOMNODDY, directed by Charles Poekel: Pioneer soap bubble entertainer Tom Noddy has taken his act around the world for over thirty years, conjuring fleeting beauty as he tries to stay true to himself.
YVES & VARIATION, directed by Lydia Cornett: A New York City doorman wears many hats—father, art curator, and erstwhile violinist—as he works tirelessly to give back to his community in Haiti.
October 7: LARGER THAN LIFE
DOWN IN FLAMES: THE TRUE STORY OF TONY 'VOLCANO' VALENCI, directed by William Stribling: In 2013, a documentary film crew followed Tony "Volcano" Valenci for 90 days on his quest to set a world record. This is his story.
A NIGHT AT COLUCCI'S, directed by Charles Poekel: You never know what will happen when the infamous variety artist Floyd Vivino performs his weekly show at a mom-and-pop Italian restaurant.
October 14, 2021: PINE MUD
Directed by Jared Flesher, PINE MUD takes an intimate look at the illegal off-road vehicles in the New Jersey Pine Barrens, as seen through the eyes of a gritty but good-natured conservationist.