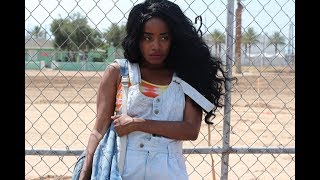 $10 Regular
$8 for Members (not a member?)
Montclair Film is proud to announce our partnership with Array Releasing. Founded by filmmaker and distributor Ava DuVernay Ava DuVernay, Array envisions a world where rich cultures, diverse viewpoints, and unique perspectives of the communities in which we live are fully represented through film, positively impacting racial and social justice around the globe. Montclair Film is excited to work with Array to amplify independent films by people of color and women filmmakers, and are launching our partnership with the new film JEZEBEL, by writer director Numa Perrier.
JEZEBEL follows 19-year-old Tiffany (Tiffany Tenille) as she navigates her dying mother's financial struggles. By working as an Internet fetish cam girl in the '90s, the young woman uses her fantasy world as an escape from her real-life circumstances. JEZEBEL made its world premiere at SXSW this year and details director Numa Perrier's real-life experiences.
Presented in Partnership with

Runtime

88 min

Release Year

2019

Director

Numa Perrier

Producer

Dennis Dortch, Dwayne Dugger, Winter Dunn, Numa Perrier, Camila Vargas

Cast

Tiffany Tenille, Numa Perrier, Brett Gelman, Stephen Barrington, Bobby Field

Country

USA