Virtual Cinema
My Little Sister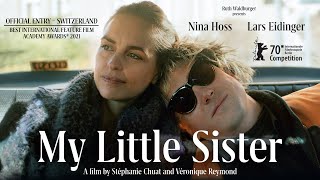 $10 Regular
$8 for Members (not a member?)
Virtual Screening Available In the USA
Available Friday, February 5 – Thursday, February 18
NEW YORK TIMES CRITIC'S PICK!
Switzerland's Official Submission to the Academy Awards
Lisa, once a brilliant playwright, no longer writes. She lives with her family in Switzerland, but her heart remains in Berlin, beating in time with that of her twin brother Sven, the famous theatre actor. Since Sven has been suffering from an aggressive type of leukemia, the relationship between them has become even closer. Lisa does not want to accept this blow of fate, she does everything in her power to bring Sven back on stage. For her soulmate she neglects everything else and even risks losing her husband. Her marriage goes awry, but Lisa only has eyes for her brother, who reflects her deepest longings and awakens in her the desire to be creative, to feel alive again.
In German and French with English subtitles.
Genre

Runtime

100 min

Release Year

2020

Director

Stéphanie Chuat, Véronique Reymond

Producer

Ruth Waldburger

Cast

Nina Hoss, Lars Eidinger, Marthe Keller, Jens Albinus

Country

Switzerland