Virtual Cinema
StorySLAM: Love Letters to New Jersey Nature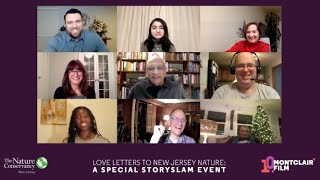 Love Letters to New Jersey Nature:
A Special StorySLAM Event
Presented in Partnership with

In celebration of Valentine's Day, Montclair Film is proud to partner with The Nature Conservancy of New Jersey on a special virtual StorySLAM event: 
Love Letters to New Jersey Nature. 
A passionate group of writers and storytellers joined us on Thursday, February 11th to present stories featuring tales of exploration, discovery, and love for the wonders of the natural world we find all around us in the Garden State.  From humorous tales of unexpected adventures in the outdoors; to celebrations of the natural beauty that abounds in backyards and gardens; to reflections on how nature is helping to soothe souls and bring balance during the pandemic; to exploring nature with man's best friend; to finding peace, wellness, and a sense of place in the natural world we all share; to pledges to unite to protect our landscapes for future generations, we hope that the program inspired you.
Miss the live event or looking to relive the magic?  Check out the pre-recorded StorySLAM on Youtube now! 
Featuring Stories By:
Keyana Jones: Every Path Leads Me Back To Myself 
Peggy Kurtz:  …No Longer A Place to Drive Through
Paul Boddy: Misguided at the Shore
Shailendra Ghorpadé: The Wild American Backyard
Maria Dal Pan: Radical Inclusivity at the Jersey Shore
Maithili Patel: Redefining My Name
Gary Hollinger: Hiking for Health
Chief Vincent Mann, Turtle Clan of the Ramapough Lenape Nation: Prayer For A Nation