Party + Events
TAYLOR MAC LIVE!:
A 24-DECADE HISTORY OF
POPULAR
MUSIC (ABRIDGED)
Taylor Mac Live! At The 2018 Montclair Film Festival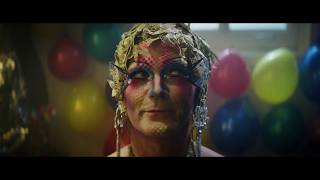 Tickets range from $25 to $99.50
Special $200 Ticket Includes Post-Show Reception
"One of the great experiences of my life."—Wesley Morris, The New York Times
Join us for this extraordinary live performance!

Taylor Mac's "A 24-Decade History of Popular Music" is an acclaimed, bedazzled mashup of music, history, and theater that decodes the social history of the United States—all 240 years—through 246 songs that were popular throughout the country, and in its disparate communities, from 1776 to the present day. This abridged performance will feature selections spanning the 24-hour work.
Taylor Mac is a New York-based theater artist, playwright, actor, singer-songwriter, cabaret performer, performance artist, director, and producer whose many talents combine in "A 24-Decade History of Popular Music," a singular illustration of our nation's diverse and sometimes dysfunctional story. In performing the spectacular work, Mac is joined by a band—led by Music Director Matt Ray, who created new arrangements of all of the songs—plus backing singers and local special guests. The audience is essential to Mac's spectacular pop odyssey, participating in immersive moments that are by turns deeply touching and hilarious.
"A 24-Decade History of Popular Music" is created, written, performed and co-directed by Taylor Mac, with co-direction by Niegel Smith. In addition to music direction and arrangements by Matt Ray and costume design by Machine Dazzle, the work features dramaturgy by Jocelyn Clarke, scenic design by Mimi Lien, and lighting design by John Torres. "A 24-Decade History of Popular Music" is produced by Pomegranate Arts (Executive Producer, Linda Brumbach; Associate Producer, Alisa Regas) and Mac's company Nature's Darlings.
Already a 2017 Pulitzer Prize Finalist for Drama and winner of the 2017 Kennedy Prize in Drama, "A 24-Decade History of Popular Music" recently garnered two 2017 New York Dance and Performance (aka Bessie) Awards—for Outstanding Production and Outstanding Visual Design, and Mac has now also been named a 2017 MacArthur 'Genius' grant winner.
Presented In Association With Pomegranate Arts